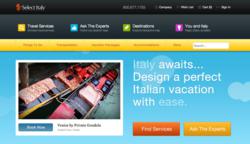 This marks a significant milestone in our company's history, but we are continuing to focus our attention on how to better improve our clients' booking experience
New York, NY (PRWEB) November 30, 2012
Select Italy, an online travel agency that has helped customers in creating state-of-the-art trips to Italy and Croatia since 1997, has recently reached and surpassed 100,000 online orders. A lucky customer in Chino, California placed an order with the 100,001 booking number and has been awarded with a complimentary gift basket stuffed with Italian goodies courtesy of Select Italy.
Select Italy is a full-service travel company with locations in Chicago, New York City, and Shanghai and representatives in Rome and Florence. Founded in 1997 by noted travel expert Andrea Sertoli, the company has established itself as the industry's most complete resource on travel to Italy, with a staff that strives to provide state-of-the art travel services that can be booked virtually. Select Italy president Andrea Sertoli was also recently named to the globally-renowned Travel+Leisure Magazine's "A-List" of Top Travel Agents agents for the 11th year in a row (2002-2012).
Although the company's expertise in Italian travel reaches back to 1997, the online order milestone reflects those orders placed through our website since its launch in 2003. Since its debut Select Italy has invested extensively in its website in order to create the most powerful, comprehensive and user-friendly online resource for travel to Italy available on the web, featuring thousands of products, informational material, and other traveler resources. These resources include Select Italy's hotel portfolios, bookings and reservation pages for museums, and opera tickets as well as vacation packages and an exclusive online custom trip planner that allows clients to begin the Italian journey of a lifetime in a few clicks.
"This marks a significant milestone in our company's history, but we are continuing to focus our attention on how to better improve our clients' booking experience, online and offline, and to maintain offering the highest quality and selected services," says Andrea Sertoli, Select Italy President.
The achievement arrives in an important year for the company, which only few months ago launched a completely revamped website, selectitaly.com With this new look, Select Italy aims to distinguish itself as having one of the travel industry's most innovative, specialized websites not only for travel to Italy but also to Croatia. This new hot Mediterranean destination now boasts its own section dedicated to helping travelers attempting to gather information or book services in the Land of a Thousand Islands. These and other milestones in the evolution of the company are retraced on its Facebook page with snapshots from the beginnings until its becoming one of the travel industry's most innovative, specialized websites that has been nominated for and won multiple awards over the years.
About Select Italy
Known as The Ultimate Source for Travel to Italy® Select Italy offers a wide array of superior Italian travel products and services, including customized itineraries, state-of-the-art tours and packages, wedding and honeymoon in Italy and Croatia, unique cooking classes, a complete pre-departure ticketing service for the major Italian museums and Opera houses, private tours and guided services, yacht charters, all kind of transportation including italian train tickets, hotel and villa bookings and more. Through a vast network of suppliers and cultural contacts, anything and everything you need for optimum vacation to Italy or trip to Croatia is possible at Select Italy. Based in Chicago with an office in New York and representatives in Italy, in 2010 Select Italy opened a full-service branch in Shanghai, China.