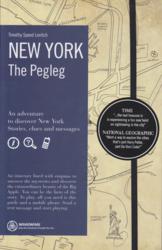 New York: The Pegleg contains forty tales about forty places in Manhattan and reveals the city's most original and hidden corners
New York, NY (PRWEB) October 12, 2011
After Venice, Rome, Florence, Milan and Verona
whaiwhai is now coming to the Big Apple! The whaiwhai guidebook ands overseas with "New York: The Pegleg" by Timothy Speed Levitch that transforms a tour of New York City into a fascinating, interactive game.
Created and published by LOG607, whaiwhai is already widely acclaimed in Italy: just last year it was selected as Best Service Innovation in the tourism category by Italian President Giorgio Napolitano. The latest edition in the whaiwhai series of unconventional guidebooks presents the same captivating, full-immersion touring experience that Select Italy customers have learned to appreciate with the previously released Italian versions.
New York: The Pegleg contains forty tales about forty places in Manhattan as it reveals the city's most original and hidden corners. Like the other versions of the game, all that's needed to live this captivating experience is the whaiwhai tour book and a mobile phone. These two tools allow the player to unscramble the stories contained in this unique guidebook. Using the texting feature (SMS) of their cell phone, players receive clues and send answers that propel them across the city from location to location, tracing an enigma-filled itinerary that jumps from the legendary stories of the Electric Lady Studios to Marylin's infamous subway grate, from the revolution of the New Bohemians to Macy's secret history, from Houdini's swimming pool experiment to Orson Welles' incredible breaking news.
Users can tailor whaiwhai to their own speed, playing by day or at night (it's available 24/7), and interrupting the game and resuming it at will. Defined by the New York Times as "a high-tech touring game that is part 'Amazing Race' and part treasure hunt, with a bit of Da Vinci Code-style storytelling mixed in," whaiwhai is both a game and a cultural experience suitable for everyone. Users can immerse themselves in the city whether they play alone, with their families or by challenging their friends to a game. The result is an extraordinary and entertaining treasure hunt in which obstacles and clues transform the city into a mysterious and exciting playing field.
The New York edition is available on Select Italy's website along with the five other guidebooks for Venice, Rome, Florence, Verona and Milan. You can also discover whaiwhai's stories and clues on your iPhone with the whaiwhai app.
About Select Italy:
Select Italy is the ultimate source for travel to Italy and offers a wide array of superior Italian products and services, including customized itineraries, state-of-the-art tours and packages, wedding/honeymoon trips, unique culinary classes, a complete pre-departure ticketing service for museums and musical events, private guided services, yacht charters, transportation, hotel reservations, villa bookings and more. In 2010, Select Italy opened a full-service branch in Shanghai, China. For more information call (800) 877-1755 or visit http://www.selectitaly.com.
###