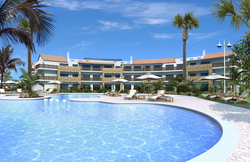 Whether you're an investor, a first-time buyer or retiring the event brings together the best property deals for those genuinely looking for a fantastic investment or lifestyle option
(PRWeb UK) February 18, 2011
The first of several 2011 Savills International & Select Resorts 'International Property Showcase Events' is scheduled to be held on February 24th 2011 in Cobham Surrey, and will showcase both affordable and hi-end luxury properties, with competitive prices from £65,000 on Turkey's stunning Turquoise Coast.
The informal evening event will provide a unique opportunity for buyers looking to invest in overseas property for sale to receive independent, un-biased advice on all aspects of investing in property and living abroad in a relaxed environment from the people directly involved.
Highly regarded staff in the industry will guide clients every step of the way, from finding a property to suit within their portfolio to discussing prices and payment plans.
These International Property Showcase Events have become a fantastic platform for customers looking to invest in overseas property. With prices far better now than they have been for a long time, there has been a spurt in demand and these small personal events have seen clients descend upon the events looking for guidance and advice from a face and name they can trust. "Whether you're an investor, a first-time buyer or retiring the event brings together the best property deals for those genuinely looking for a fantastic investment or lifestyle option" says Michael Reilly of Select Resorts.
Michael Reilly added "We are confident that the first of our International Property Showcase Events in 2011 will prove to be a fantastic opportunity for people to meet with both Select Resorts and Savills International, to learn about what the overseas property sector currently has to offer and make informed decisions".
For people looking to buy a second home, invest in the lucrative overseas property sector or to gain economic citizenship and tax advantages, the choice of properties on offer through Select Resorts ranges from high-end luxury villas in the Caribbean to best value properties. Some of the resort developments that will be showcased at the event include: Ocean's Edge – St Kitts, Aphrodite Hills - Cyprus, and various Mallorca properties.
Select Resorts will also be showcasing Dunas Beach Resort in Cape Verde, where Savills now predicts up to nine per cent capital growth p.a. over the next five years, and even higher rental yields. Dunas is the second five-star resort development from the Resort Group and builds on the success of the sold out Tortuga Beach Resort , also on the Island of Sal. The Dunas Beach Resort is Fully SIPP Compliant using the UK's largest Independent Self Administrated provider.
Together Select Resorts & Savills pride themselves in providing the "personal touch" to clients, giving expert advice on a vast range of international property areas to help clients reach more profound decisions on purchasing overseas property.
As well as being able to sell their clients a wide range of projects around the world from million Euro villas in Aphrodite Hills – Cyprus, to mass market investment products in emerging markets, Savills and Select Resorts are able to assist clients with legal, financial, accounting and tax issues relating to property purchases.
The silver lining to a difficult two years in the overseas property market is here and with prices right, some fantastic deals available and properties plentiful, now is an opportune time for buyers to realise their dream of investing in property abroad.
Company Overview
Established in 1982, Select Resorts has over 25 years experience in the overseas property sales industry offering clients advise on where and what to buy.
Whether clients are looking to buy a holiday home or an investment property with guaranteed income, they are sure to find an overseas property to suit within Select Resorts portfolio which covers many European countries and virtually every continent.
Anyone who knows and has worked with the Select Resorts team will know that this professional family run business are extremely passionate about overseas property. Their long standing establishment in this industry has given them a wealth of experience to draw upon to help clients realise your dreams of owning a second home overseas.
For further information, please contact:
Michael Reilly
Marketing Director of Select Resorts
tel. +44 (0)1202 765 011
or visit the Company's website at SelectResorts.co.uk
###