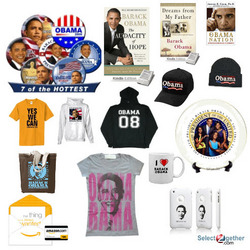 Historic events inspire memorable fashion choices - and it doesn't get much more historic than this year's presidential inaugural events
Palo Alto, Calif. (PRWEB) January 13, 2009
Whether attending an actual Inaugural Ball for Barack Obama (lucky you!), or a private party with your closest friends and family, you'll likely remember this year's presidential inauguration for years to come (not to mention the pictures that are sure to surface on Facebook). How does one dress for such an occasion?
Select2gether today issued an invitation to consumers to use its mobile and social shopping community to help make that decision. Select and share presidential inaugural fashion choices with friends, get advice in real time from the network, offer ideas about what the Obama family should wear, and just have fun interacting with fellow shoppers and fashion enthusiasts.
"Historic events inspire memorable fashion choices - and it doesn't get much more historic than this year's presidential inaugural events," said Jeany Stein, Select2gether founder and CEO. "These celebrations will be captured in photographs - whether those cameras belong to the New York Times or to your best friend. Our shopping community gives people a way to share and discuss fashion and shopping in real time, either online or via mobile device - so they can plan their own wardrobe ahead of time, or discuss the First Family's fashion choices as the events unfold."
Select2gether.com is the first shopping community that is truly live, mobile and social, allowing people to compare items and get purchase advice in real time no matter where they're shopping.
Select2gether members get their own showroom, accessible via mobile device and PC, where they can store images and information about items they're considering buying, or create and display entire outfits or design schemes. They fill their showrooms with merchandise they find while shopping online (by clicking and dragging) and with items they find in the real world (by uploading mobile photos, UPC code and relevant product info).
For more information, visit http://www.select2gether.com.
About Select2gether.com:
Select2gether offers live, mobile and social shopping. It helps consumers select items and get purchase advice anywhere and anytime they want - whether online, at the local mall or around the globe. People select, style and shop together in a real-time, international environment. Primarily focused on apparel at launch, Select2gether will encompass the endless array of design, including fashion, home, cars and more. Select2gether was founded by Jeany Stein, an award-winning entrepreneur who has been building successful mobile solutions. The company is based in Palo Alto, Calif.
Media Contact:
Jennifer Spoerri
Jennifer (at) select2gether (dot) com
415-563-2363
415-577-0171 cell
###