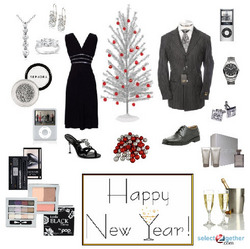 This is a great way for people to reassess their entire wardrobes, discover clothing combinations they'd never considered, find hidden gems and identify a handful of new pieces that would complement what they already have and add fresh style
Palo Alto, Calif. (PRWEB) December 17, 2008
Select2gether today issued an invitation to consumers to start the new year fresh by taking a good look inside those closets, and giving friends and fashion experts a peek, as well - to get advice on what to keep, what to ditch and what key purchases would extend the wardrobe without emptying the wallet.
Select2gether.com provides its members with personal online showrooms, through which they can showcase the items in their closets simply by uploading photos or by choosing any items that they like from the Internet. Select2gether is also a social shopping network that serves as a live advice environment, where members can solicit real-time input from friends, expert advisors and the network, to help them make wardrobe and buying decisions in the moment.
"This is a great way for people to reassess their entire wardrobes, discover clothing combinations they'd never considered, find hidden gems and identify a handful of new pieces that would complement what they already have and add fresh style," said Jeany Stein, Select2gether founder and CEO. "It's a fun, cost-effective way to extend a wardrobe. Sometimes just a few choice additions can help create a new look. But most of us could use some friendly advice when we're making fashion choices."
Find Those Choice Items For Less:
Select2gether also makes it easier to mix high style and low cost, letting consumers find comparable items for less.

Do you like Angelina Jolie's dress, but can't afford it?
How about those boots you saw in London at Harrods at the trunk show by Casadei, thigh-high and beyond sexy?
Need to find something for New Year's that doesn't cost double your mortgage or rent payment?
A shopper simply clicks on an image of Angelina's dress, or those boots, and the shopping engine will bring up similar items in different price ranges.
"It's the ultimate shopping and design tool for someone on a budget," said Stein. "And aren't we all these days? Dressing in style is an exercise in creativity. Part of it is being savvy about how we use our current pieces of clothing, and part of it is knowing how to find stylish pieces for less. We're helping with both."
Select2gether.com is the first shopping community that is truly live, mobile and social, allowing people to compare items and get purchase advice in real time no matter where they're shopping.
Select2gether members get their own showroom, accessible via mobile device and PC, where they can store images and information about items they're considering buying, or create and display entire outfits or design schemes. They fill their showrooms with merchandise they find while shopping online (by clicking and dragging) and with items they find in the real world (by uploading mobile photos, UPC code and relevant product info).
For more information, visit http://www.select2gether.com.
About Select2gether.com:
Select2gether (http://www.select2gether.com ) offers live, mobile and social shopping. It helps consumers select items and get purchase advice anywhere and anytime they want - whether online, at the local mall or around the globe. People select, style and shop together in a real-time, international environment. Primarily focused on apparel at launch, Select2gether will encompass the endless array of design, including fashion, home, cars and more. Select2gether was founded by Jeany Stein, an award-winning entrepreneur who has been building successful mobile solutions. The company is based in Palo Alto, Calif.
Media Contact:
Jennifer Spoerri
415/563-2363
415/577-0171 cell
###