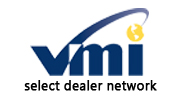 (PRWEB) December 19, 2011
R & R Mobility has revealed they've joined the VMI SDN (Select Dealer Network), to take advantage the powerful structure put together by VMI by means of Mobility Sales.com.
The Select Dealer Network is a progressive project devised to aid VMI dealerships pool their resources and create an effective web site through which customers can contact each dealer in the system. The site selected for this is MobilitySales.com, a site with a solid past and recognition in the mobility business. With MobilitySales.com, R & R Mobility will gain a defined marketing location for marketing wheelchair accessible vehicles and mobility items. This enables more effective spending of web marketing money, as well as permitting dealerships to get their product in front of a new customer base.
In addition to greater marketing strength and a greatly increased internet existence, R & R Mobility gets full instruction in handling web buyer leads, as well as how to track prospects through the successful allocation process.
The Select Dealer Network has been thriving quickly-- founded in 2008, the SDN has helped to acquire considerably larger numbers of purchasing individuals than what any partaking dealer experienced before its creation.
The SDN permits mobility dealers to build mutual awareness into business issues, as well as strengthen connections within the mobility industry. Dealers are also able to enjoy a strong voice throughout VMI (Vantage Mobility International), as well as clear, truthful dialogue within the network.
R & R Mobility is very thrilled about belonging to the Select Dealer Network, and looks forward to an equally beneficial association with all dealerships.
About R & R Mobility: Founded in 1974, R & R Mobility has since grown to three "Sales and Service" location in North Georgia. They have one of the largest wheelchair accessible van inventories in the Southeast, including new and used handicap vans.
###