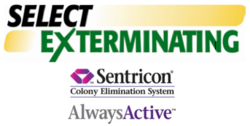 Sentricon is the first and only termite product to be awarded the Presidential Green Chemistry Award by the U.S. Environmental Protection Agency.
Franklin Square, New York (PRWEB) April 15, 2013
Select Exterminating of New York is introducing this system for all its current and future customers in the five boroughs of New York, Long Island, Westchester, as well as Northern New Jersey. As a special offer Select Exterminating is offering $100 off with code Sentricon 4913 to new customers who chose the Sentricon Termite Elimination System.
In the United States an estimated $5 billion worth of termite-related damages occur annually, and over 5 million homes in the United States have termite complications each year, including those in the tri-state area. When the weather stays above 50 degrees, it is the highest indicator that termite swarms are going to begin. Homeowners in areas such as Long Island may find hundreds of these flying insects swarming around their homes, as well as wings. Swarmers are produced by the Queen termite to help develop new colonies, and are the number one indicator that a structure may have an infestation of termites.
Subterranean Termites are a major concern in the New York area, making it imperative to gain control over these insects before it is too late. Colonies can range from thousands to millions, and feed 24 hours a day, seven days a week. The easiest way to take back control of a home is by eliminating the colonies with Sentricon. The new and improved Sentricon Termite System is placed about 10 feet apart into the ground, containing bait all year long. The termites feed off of the bait, bringing it back to the colonies essentially eliminating the entire colony.
About Select Exterminating:
For over 50 years our highly skilled technicians have provided state of the art service to over 50,000 customers throughout the 5 boroughs, Nassau and Suffolk County, Westchester, as well as Northern New Jersey. There's no secret to our success. It's all about building a reputation on reliability and being true to our word. No nonsense. No elaborate claims. Just the nuts-and-bolts, round-the-clock, year-to-year pest prevention and customer service that keep your family safe and protect your personal and professional investments.