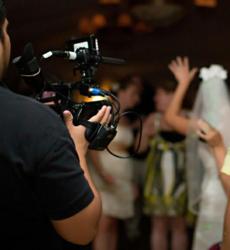 It can be hard to know what to look for in a wedding videographer. To make it simple, here are 5 things to consider when selecting a videographer for your special day.
burlington, ma (PRWEB) August 31, 2012
"Will you marry me?" Every time that magic question is passed between lovers, a journey begins: A stressful, archaic time known as 'wedding planning'. Every detail from colors, cake, dresses, and guest lists must be meticulously chosen and when it comes down to fulfilling your video needs, it can be hard to know just what to look for. To make it simple, here are 5 things to consider when selecting a videographer for your special day.
1. Find a Legitimate Professional When combing through the list of wedding videographers in your area, pay attention to what sites they're on and their experience. Craigslist is a useful tool for finding a used aquarium or snow tires, but not necessarily a great place to find vendors. All too often, brides will choose a videographer at a bargain on Craigslist, only to have an inexperienced, film student show up with an over-the-counter camcorder. Make sure the videographer has their own site and that they are backed by a legitimate business accredited by the Better Business Bureau. It also important that they own professional grade equipment from cameras to microphones.
2. Quality Once you've found some videographers, check the quality of their work. Search wedding sites like The Knot or Wedding wire for positive reviews from other brides. If they have solid reviews, check out samples of their work on their website, but then have a full wedding sample sent to you as well. It's important to see something beyond a highlight reel to get a real sense of what the final product will look like and how you will receive it. Do they offer full wedding edits on DVD and Blu-ray? Do they offer raw footage and photomontages? It's important to know exactly what to expect.
3. Price After you've found some videographers with great samples, it's time to talk numbers. Wedding budgets are often tough to navigate, so brides will often jump on the lowest price, but beware! Double check what your money will buy. More often than not, if the price is seems too good to be true, it is. If a videographer promises 8 hours of wedding day coverage, full wedding edits on DVD, and Blu-ray for under $2000, be wary. That means 8 hours of labor shooting, 24 hours of editing, plus supplies, equipment, and utilities . . . $2000 quickly becomes a near minimum wage job for the videographer which begs the question: What corners is he cutting to make sure he turns a profit? To keep costs down, videography firms will hire inexperienced shooters or provide a 'cookie-cutter' product that lacks character or personalization. Choose a videographer that is fairly priced and that will give extra attention to the editing of your wedding. Your wedding video, after all, will potentially be the thing that you show your grandkids someday, and should be something very special.
4. Packages Videographers will often offer an assortment of packages ranging in price and wedding length. It's important the videographer has a package that will cover your unique wedding start to finish. There's only one chance to capture everything. Some videographers will give you a great price, but only commit to shooting just the ceremony. The ceremony is very important, but so is the pre-ceremony, and reception. The emotions encapsulated in pre-ceremony footage can be immensely powerful and provide a window into the 'butterflies' and jubilation before the wedding service. The reception, of course, takes up nearly two thirds of your wedding day and is where the most wedding memories are born. At the end of the day, the cake might be cut, but once captured on video, you can revisit any important moment again and again.
5. Service & Organization Once the list of videographers has narrowed, attention to detail and personalized service will often elevate one above the rest. If all you're asked for is a date, place, and credit card, be wary! A prepared professional will ask you for your detailed schedule of your wedding day and specifics such as what you would like to see in your video, photo locations, number of guests, and so forth. Every detail of a wedding goes through meticulous planning and your videographer should respect that and capture it in your video. The videographer should be able to communicate with you promptly through email or on the phone and answer your questions clearly. With great communication and preparation, there is a certainty of a final product that you'll love.
ABOUT MCELROY WEDDINGS:
McElroy Weddings, a division of McElroy Films, is an award-winning high definition wedding videography and photography company serving all of Massachusetts and New England. Using excellent and experienced Boston videographers, professional audio, and professional HD cameras such as Canon DSLRs, Sony EX, and Red Scarlet, McElroy Weddings guarantees top quality coverage of every aspect of your wedding day and beyond.
For more information call 1-888-203-2744 or visit http://www.mcelroyweddings.com.