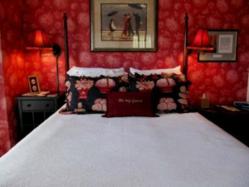 Now is the perfect time for parents to sneak away, rekindle some romance and revel in the freedom of life without the kids.
Marshall, MI (PRWEB) October 01, 2012
Last month, over 17 million college-bound sons and daughters waved goodbye to their parents and shipped off to begin their college careers. To recover from the tearful goodbyes and escape the mountains of laundry and messy bedrooms left behind, Select Registry encourages college parents to enroll themselves in a well-earned getaway at a luxurious inn or bed and breakfast.
Based on enrollment figures from the National Center for Education Statistics, Select Registry estimates nearly 30 million parents throughout the U.S. and Canada are in need of a post-college-send-off vacation. With the holiday season just around the corner, homesick and hungry undergrads will soon be knocking at the door and making their annual homecomings to stock up on clean clothes and hearty, home-cooked meals. Now is the perfect time for parents to sneak away, rekindle some romance and revel in the freedom of life without the kids.
After devoting countless hours to college research, campus tours and calming the nerves of their anxious offspring, parents are due for some much-needed de-stressing. Nestled in Virginia's Blue Ridge Mountains, The Doctor's Inn is a colonial bed and breakfast that prescribes hour-long in-room massages to unknot the stresses of the college process.
The duties of parenthood often force romance to take a backseat, but the intimacy of the Select Registry experience has a way of evoking the romantic within. Inspired by the best-selling trilogy by E.L. James, The Hoyt House Bed and Breakfast, a coastal retreat on Florida's Amelia Island, offers a sensual 50 Shades of Gray package that puts the "us" in adventurous.
With an international portfolio of charming locations, parents have the opportunity to study abroad and rediscover date night. A night at Abigail's Hotel comes with all the arrangements for a cultured and memorable visit to Victoria, British Columbia, including tickets for the Royal BC Museum and an IMAX theater experience.
Choosing an inn to visit can be as overwhelming for parents as selecting a school was for their kids. Lucky for undecided parents, Select Registry Gift Certificates are accepted at each of the nearly 350 destinations and the 400-page Guidebook is a far more enjoyable read than any college brochure.
About Select Registry:
Select Registry™ Distinguished Inns of North America represents nearly 350 of the finest country inns, luxury B&Bs, and unique small hotels across North America — the very best the industry has to offer. Established more than 40 years ago, Select Registry sets the standard for excellence with the longest continuously running inspection program in the B&B industry.
Inns applying for membership receive rigorous periodic inspections as do existing member inns. Independent inspectors with years of hospitality experience arrive anonymously, spend the night and evaluate the inn. No other online directory or organization of innkeepers has a comparable inspection program, establishing Select Registry as the benchmark for quality. Each member property is unique and showcased in the Select Registry Guidebook. With more than 400,000 copies available as gifts to guests, the guidebook is the largest publication of its kind in the travel industry. For more information, visit http://www.selectregistry.com.