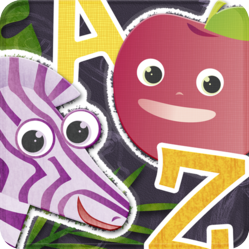 Build phonics recognition, while introducing new animal and vegetable words.
San Mateo, CA (PRWEB) April 11, 2013
Selectsoft, a leading developer of family-friendly games and educational apps, is pleased to announce the release of ABC Animal vs. Veggie Flash Cards, a set of fun-filled illustrated A to Z flashcards plus a memory matching game designed especially for kids. Children can quickly learn their ABCs with two sets of friendly illustrated flash cards featuring A to Z cartoon animals and vegetables. It's easy for kids of any age to use—just tap the cards to hear each letter and word spoken aloud, then swipe to go to the next letter. Switching to game mode, users can play a picture matching game for another fun way to practice the alphabet. Though a simple concept, talking flash cards are an entertaining a way to encourage early development of language, reading and listening skills for young children. Kids can quickly pick up which animal or vegetable goes with each letter, making learning the alphabet fun and easy. ABC Animal vs. Veggie is available now for the iPhone and Android phones and tablets, and is coming soon for iPad and Mac.
Animal vs. Veggie uses eye-catching art and bright cartoon characters to create an inviting, warm and child-friendly interface. A large button menu lets users choose which flash cards to explore, or choose to jump straight into the matching game. Even the youngest children can easily navigate, quickly swiping from word to word as they browse through the alphabet. Spoken audio provides reinforcement for each letter, helping to build phonics recognition, while introducing new animal and vegetable words. It's a simple and entertaining way to discover new vocabulary and the ABCs that's perfect for the earliest learners.
In addition to the flash cards, ABC Animal vs. Veggie also includes a "Vs." game mode that lets users play a fun picture matching game featuring all the animals, vegetables and letters. Kids match each picture to the right letter using what they've learned from the alphabet cards. In easy match mode, all the pictures are visible to let kids practice their matching skills. Switching to hidden mode adds an extra challenge, as the pictures are hidden and users must remember the correct position for each item to make a match. Funny sound effects let children know if they've guessed correctly or need to try again. With no time limit or scores, it's a relaxing and amusing way for kids to practice and explore their new vocabulary.
ABC Animal vs. Veggie is the latest in Selectsoft's growing line of educational apps which combine learning with fun games, including Children's Picture Dictionary, Flash Card Fun foreign language apps, the Reading Fun series, Addition Frenzy and many more. As a developer and publisher, Selectsoft remains dedicated to making family-oriented casual games and educational apps for all ages, and is pleased to have the release of ABC Animal vs. Veggie reinforce that commitment.
About ABC Animal vs. Veggie Flash Cards:
A great way to learn the ABCs along with fun animal, fruit and veggie vocabulary! Learn, play and discover the alphabet with colorful illustrated cards. Tap the card to hear the word, then play a kid-friendly memory matching game. Created by educational app developer Selectsoft, Animals vs. Veggies is a wonderful way to teach children letters, alphabetical order and fun vocabulary words.

From A is for Apple to Z is for Zebra, kids will love the bright cartoon illustrations and the friendly spoken words.
Match the letters with animals and veggies in an entertaining matching game. Play in easy match mode or choose hidden matches for a fun memory test.
Enjoy two complete sets of alphabet flash cards with audio plus a match game.
Simple and fun to use for even the littlest learners.
The ABC Animal vs. Veggie Flash Cards app is available now for iPhone on the App store in the Games and Education categories. ABC Animal vs. Veggie HD is also available for Android phones and tablets, including on Google Play, on the NOOK Color™ by Barnes & Noble and on the Amazon Appstore, and will be coming soon for iPad and the Mac App Store.
Headquartered in San Mateo, California, Selectsoft is a leading developer of family-friendly games and apps, creating best-selling games for iOS, consoles, Android, Mac and PC. It's also one of the largest independent publishers of PC and Mac software, featuring licensed content from Broderbund, Disney, The Learning Company and many more. For almost 20 years, Selectsoft has been dedicated to providing affordable, fun entertainment for the whole family. Visit http://www.selectsoft.com to learn more.