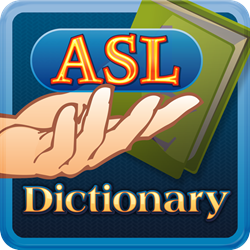 A dictionary and phrasebook filled with over 7000 entries.
San Mateo, CA (PRWEB) November 28, 2013
California-based family-friendly app developer Selectsoft is excited to announce ASL Sign Language Dictionary Deluxe, their newest language learning app for Android. Joining Selectsoft's top-selling education titles Learn American Sign Language and ASL Word Immersion, ASL Dictionary from Selectsoft combines video lessons and flash cards to quickly teach practical sign language skills. A dictionary and video phrasebook filled with over 7000 entries, ASL Dictionary makes it easy to learn, practice and repeat real ASL signs covering activities, the home, numbers, essentials and more.
ASL Sign Language Dictionary Deluxe features a simple interface that makes it easy and quick to browse entries. Along with a fast search function, users can choose to browse signs in 24 practical categories, including Activities, Clothes, Descriptors, Expressions, Food & Drink, People, Verbs, Work and more. In addition, a set of dedicated alphabet buttons makes it simple to jump to specific words. Users can easily look up videos with translations of ASL words and phrases or find common words for conversational support, and quickly swipe to load each video, then tap to play or pause. Two professional sign language interpreters clearly demonstrate each sign accompanied by text translations. Plus, while other dictionary apps might require additional downloads to access all their content, ASL Dictionary contains everything within the app, making it ideal for use on-the-go.
In addition to the dictionary and phrasebook features, ASL Sign Language Dictionary Deluxe is also great for review and learning. The flash card feature offers more opportunities to explore vocabulary and work on memorization and visual comprehension skills with video and text. Users can switch between English and ASL, view text translations and easily repeat videos. It's a great way for learners to quickly pick up American Sign Language essentials on their Android phone or tablet.
About ASL Sign Language Dictionary Deluxe
Over 7000 useful ASL words and phrases at your fingertips! ASL Dictionary is an easy, fun way to learn and look up useful sign language phrases for activities, descriptors, essentials, people and more. Quickly find and play each video entry, then use the flash card setting to review and practice. Everything is included, so there's no need download additional content! This video phrasebook is great for users of all levels, with simple controls and fast navigation.

7000+ entries
Fast, easy-to-use interface makes it simple to find and play specific words and phrases
Quickly swipe through videos and tap to play
Practice in flash card mode and test vocabulary with text or video
Play ASL Dictionary wherever and whenever—it's the perfect way to learn on the go!
ASL Dictionary covers:
Action Words • Activities • Animals • Body • Clothes • Colors • Descriptors • Essentials • Expressions • Emotions • Food & Drink • Home • Dining • Letters • Numbers • People • Places • School • Things • Time & Date • Vehicles • Verbs • Weather • Work
American Sign Language can be used to communicate with deaf friends, family, customers and co-workers, and also with babies and children before they learn to speak. ASL Dictionary makes it easy for learners of all ages and skill levels to immerse themselves in the essential words and phrases of this unique language. ASL Sign Language Dictionary Deluxe is part of Selectsoft's ongoing line of educational language apps which includes the popular Play & Learn series for iOS, the top-selling Mac series Speak & Learn, and the Travel Talk language apps. ASL Dictionary combines broad content and easy functionality for a different approach to learning ASL, and is available now on the NOOK Color™ by Barnes & Noble and on the Amazon Appstore for Android phones and tablets.
Selectsoft is a leading developer of family-friendly games and apps, creating best-selling games for Nintendo DS™ and Wii™, iPhone®, iPad®, Android and PC. They're also one of the largest independent publishers of PC software, featuring licensed content from Broderbund, Disney, The Learning Company and many more. For almost 20 years, Selectsoft has been dedicated to providing affordable, fun entertainment for the whole family. Visit http://www.selectsoft.com to learn more.