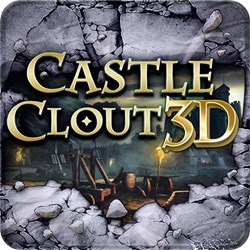 Conquer over 150 levels filled with immersive 3D and stunning painted backgrounds.
San Mateo, CA (PRWEB) January 27, 2014
Smash castles, crush enemies and enjoy epic 3D trebuchet action with the release of Castle Clout 3D from California-based game developer Selectsoft! Featuring all new painted backgrounds, 150 levels, vivid 3D effects, new foes, special weapons, and a "hot seat" multiplayer mode, Castle Clout 3D brings medieval mayhem to the Nintendo 3DS™ like never before. Battle through the Forest, Frost, Desert, Jungle and Burning Lands to unite the empire and save the kingdom from the Darkness. Choose between the ballista and trebuchet, load it with ammo and release at the right angle to send boulders, bombs and more blazing through the air in front of immersive 3D painted backgrounds. Batter walls and topple foes while avoiding allies and earn Gold, Silver and Bronze trophies for each level. Then use the builder to create custom levels out of wood, stone and metal, filled with a variety of colorful foes. Or challenge friends and family in multiplayer mode and see who emerges the victor in a medieval battle royal.
Developed by Selectsoft in partnership with Teyon, Castle Clout 3D combines exciting physics-based play with clever strategy, entertaining sound effects and stunning visuals. Castle Clout 3D will be available through the Nintendo eShop on Nintendo 3DS on January 30, 2014 for $4.99 (USD).
About Selectsoft
Selectsoft is a leading developer of family-friendly games and apps. With our partners we've created best-selling games for the Nintendo DSi™ and Wii™ systems, including 101 Dolphin Pets, Super Swap!, Drop Zone: Under Fire and Mini Golf Resort. For almost 20 years, Selectsoft has been dedicated to providing affordable, fun entertainment for the whole family! Visit http://www.selectsoft.com to learn more.
About Teyon
Teyon is a successful developer and publisher of interactive entertainment for all leading platforms. Established in 2006 in Poland, the company is focused on the development of high-quality video games and software. Teyon has created best-selling games for the Nintendo DSi and Wii systems including the well-received puzzle games Robot Rescue and Ball Fighter. Visit http://www.teyon.com to learn more.
Nintendo trademarks and copyrights are properties of Nintendo.