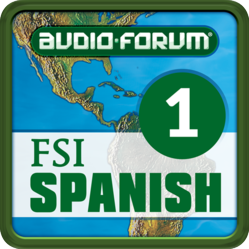 Learn Spanish the proven way—just like a diplomat!
San Mateo, CA (PRWEB) January 17, 2013
Educational app developer Selectsoft is pleased to announce the release of the first Audio-Forum® language learning apps for iPhone and iPad. Audio-Forum is one of the most trusted names in premium foreign language learning, beginning as an audio-recording production house for the Foreign Service Institute and then becoming the first publisher of FSI foreign language courses for the general public. Now, with the release of the Spanish Programmatic Course Vol. 1 app and the upcoming release of additional levels, the quality full-course content of Audio-Forum's foreign language titles is available at last in a fully mobile form.
Spanish Programmatic Course Vol. 1 by Audio-Forum covers the content of the original FSI course, and additional cultural information, grammatical explanations and drills. The program is carefully designed to help new learners memorize and practice each lesson to encourage a complete mastery of the material. The text provides support to the audio by providing explanations of points of grammar and usage. However, with an emphasis on the audio content, users of the app will find it easy to review lessons on-the-go.
With the Spanish Programmatic app, users can learn Spanish in as little as 25 minutes a day. Unlike other foreign language course materials, Audio-Forum's language programs are specifically designed for self-instructional use without the aid of a teacher. The app is a full-course PDF audio-book, allowing users to listen to the audio with or without the text, quickly navigate to lessons from the table of contents, and bookmark specific pages. The audio/text method has been developed with U.S. State Department's Foreign Service Institute authors and instructors specifically for diplomats, and is a proven way to achieve fluency.
About Spanish Programmatic Course Vol. 1
Learn Spanish the proven way—just like a diplomat! You'll be amazed at how easy it is to achieve fluency in Spanish using this proven audio/text method. For over 40 years, Audio-Forum has been the original and most trusted source for Foreign Service Institute language courses. While other premium language courses offer only the means to learn to speak, with Audio-Forum you'll not only speak fluently, you'll also master reading, writing, and grammar skills at a scholarly level—all with the confidence and polish of a native Spanish speaker. After all, diplomats have proven for years that this method works!
Features:

17 hours of audio, 25 lessons, and 464 pages plus a manual
Master a native accent with detailed audio
Covers word stress, intonation, vocabulary, and pronunciation
Practical dialogs and conversations
Writing awareness and application
Reading multisyllabic words and cognates
Brief culture capsules in English
Grammatical observation and practice, word and phrase substitution, and more!
Includes bookmarks, zoom, and easy-to-use table of contents
Spanish Programmatic Course Vol. 1 is available now on the App Store, and additional Audio-Forum audio-book apps are coming soon. The release of the new Audio-Forum apps accompanies the launch of the redesigned AudioForum.com website and Audio-Forum foreign language courses. Founded in the 1970s, Audio-Forum is a division of MPS Multimedia Inc., a privately-held consumer software company in business since 1992 with offices based in San Mateo, CA. Selectsoft is a division of MPS founded in 2001. For almost 20 years, Selectsoft has been dedicated to providing affordable, fun entertainment for the whole family. Visit http://www.selectsoft.com to learn more.