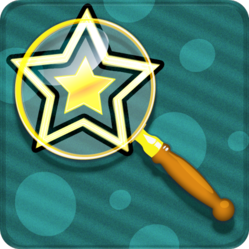 An addictive blend of highly detailed art and straightforward gameplay
San Mateo, CA (PRWEB) April 30, 2012
Family-friendly game developer Selectsoft made a bet on casual tablet games with their announcement in February of an extended series of pick-up-and-play puzzle games. Now, following the success of the top 100 iPad® board games City Mysteries HD and Gothic Masquerade HD, Selectsoft continues to expands its line of hidden object and spot the difference games with Just Spot It! HD for iPad® and Android tablets. Debuting in the Top 50 for iPad® trivia games, Just Spot It! HD has shot up the iPad® charts with its addictive blend of highly detailed art and straightforward gameplay. With this newest entry into the crowded tablet game market, Selectsoft hopes to capture consumers that are searching for both the visual depth of more complicated hidden object games and the fast-playing action of casual games.
Designed specifically for tablets, Just Spot It! HD features an easy-to-use touch interface, high-resolution art, useful hints and a high-score board. As with City Mysteries HD and Gothic Masquerade HD, Just Spot It! HD eschews a full-scale storyline in favor of an atmospheric theme and distinctive setting. Players wander through the attic, kitchen, garage and other rooms of an empty house, depicted with 20 intricate scenes. This more relaxed style of play lends itself to well to the on-the-go world of tablet devices.
While many spot the difference games only have simple photo manipulations, Just Spot It! HD features fun hidden object-style constructed scenes and eye-catching drawings. The classic puzzle gameplay is combined with immersive, detailed art. Subtly different side-by-side scenes require a sharp eye to solve, as players search for differences one-by-one while the clock ticks down. The carefully created pictures will challenge the observation skills of any player.
Feature Highlights:

20 intricate pictures, each with 10 differences
Beat the clock for extra points
High scores list
Easy controls and hints
Music and sound effects
With the apparent ongoing success of casual HOG, Selectsoft remains committed to expanding their game series for iPad® and Android tablet. Just Spot It! HD for iPad® is available now through the App Store in the Games category and Google Play, and will be coming soon for the NOOK Color™ by Barnes & Noble and on the Amazon Appstore.
Headquartered in San Mateo, California, Selectsoft is a leading developer of family-friendly games and apps, creating best-selling games for iOS, consoles, Android, Mac and PC. It's also one of the largest independent publishers of PC and Mac software, featuring licensed content from Broderbund, Disney, The Learning Company and many more. For almost 20 years, Selectsoft has been dedicated to providing affordable, fun entertainment for the whole family. Visit http://www.selectsoft.com to learn more.