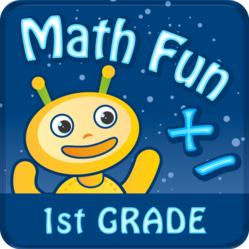 Kids can acquire a solid foundation in first grade math and have a great time doing it
San Mateo, CA (PRWEB) May 31, 2012
Selectsoft, a leading developer of family-friendly games, has released Math Fun 1st Grade: Addition & Subtraction HD, a new educational math game for iPad®, Android tablet and Mac. Children can master addition and subtraction skills with a variety of fun exercises and puzzles, including math bingo, magic squares, word problems, anagrams and more. With an easy-to-use interface and straightforward gameplay, Math Fun is an entertaining way to encourage the development of fundamental math skills for all ages.
A strong grasp of arithmetic is essential for future success in math. With Math Fun, kids can acquire a solid foundation in first grade math and have a great time doing it! Math Fun covers patterns of ten, mental calculations, place values, equations, inequalities and more. Hundreds of carefully designed exercises and drills reinforce learning and make math concepts come alive. Real-life situations help develop a practical understanding of math, while fun math games and Game Center achievements show children that math can be easy and fun. A simple drag-and-drop interface makes it simple to use for learners of all ages. With no time limits or scores, it's a relaxing and stress-free way for children to practice and explore critical thinking and problem-solving skills in an engaging, interactive learning environment.
Math Fun is the latest in Selectsoft's growing line of educational apps which includes Super Word Search!, Children's Picture Dictionary, Addition Frenzy, the Play & Learn language learning series and more. As a family-oriented developer with a background in both casual games and educational programs, Selectsoft is committed to creating apps that combine learning with fun.
Math Fun Description:
Kids can acquire a solid foundation in math and have a great time doing it! A friendly robot guides kids on a math adventure with easy-to-understand lessons and entertaining games. Over 200 exercises cover basic math concepts using puzzle-solving, word problems, pictures and more.
Features

Simple drag-and-drop interface
Over 200 exercises and games to reinforce learning
Covers equations, number families, patterns of ten, place value, inequality and more
Includes magic squares, bingo, word problems, shape matching and more for a varied challenge
Fun Game Center achievements
Explore the universe of addition and subtraction with 10 kinds of activities:
Counting: Learn how to do simple addition by counting objects
Subtraction: Move items and count how many are left
Equations: Solve equations to decode scrambled words
Number Families: Easily switch between addition and subtraction
Patterns of Ten: Practice mental arithmetic
Place Value: Learn about tens, hundreds, and thousands
Inequality: Learn about greater than and less than
Word Problems: Practice math with written questions
Magic Squares: Fill in the squares so the numbers add up in each direction
Bingo: Find the answers to the equations on bingo cards
Pricing and Availability:
Math Fun 1st Grade: Addition & Subtraction HD 1.0 for iPad® is available at the special introductory price of $1.99 USD (or equivalent amount in other currencies) and can be found worldwide through the App Store in the Education category. Math Fun 1st Grade will be coming soon for Android tablets and the Mac App Store.
Headquartered in San Mateo, California, Selectsoft is a leading developer of family-friendly games and apps, creating best-selling games for iOS, consoles, Android, Mac and PC. It's also one of the largest independent publishers of PC and Mac software, featuring licensed content from Broderbund, Disney, The Learning Company and many more. For almost 20 years, Selectsoft has been dedicated to providing affordable, fun entertainment for the whole family. Visit http://www.selectsoft.com to learn more.