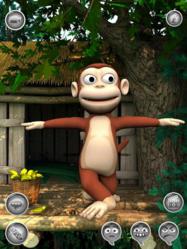 As much fun to look at as to listen to!
San Mateo, CA (PRWEB) May 30, 2013
My Talky Mack: The Talking Monkey is the newest family-friendly entertainment app from California-based developer Selectsoft. My Talky Mack is a funny and silly interactive 3D talking monkey app for iPhone, iPad and Android, joining Talky Don the Talking Dinosaur and Hello Talky Chip the Talking Chicken on the App Store and Google Play. Talky Mack combines amusing preset phrases, funny animations and a highly responsive mimicking function with the easy-to-use talk-text feature for hours of entertainment for kids and adults.
My Talky Mack features an especially robust, easy-to-use and accurate interactive text-to-talk capability, letting users type any kind of phrase for Mack to speak. Type in text or speak to Talky Mack and hear him talk back in a goofy voice, then record and share videos via Facebook, YouTube and more. For those who just want to hear a good joke, a library of amusing presets is included. Unlike other talking apps which mostly rely on repeating spoken or preset phrases, however, My Talky Mack offers more opportunity for customization, as users can make the text Mack says as simple or complicated as they want, or skip the keyboard and just talk directly to the app to make Mack mimic. Users can also speed up or slow down the playback for additional fun. Plus, with full-body 3D animations, stunning backgrounds and fun sound effects, Talky Mack is as much fun to look at as to listen to. Mack makes faces, dances, jumps and more as he speaks and repeats. My Talky Mack is available now through the App Store in the Games category and on Google Play, the NOOK Color™ by Barnes & Noble and on the Amazon Appstore.
About My Talky Mack:
Text, talk and play with Talky Mack, the quirky talking monkey! Type in text to hear Mack say anything in a silly voice. Or just speak and hear him hilariously repeat everything. Easily record and share fun videos via Facebook, YouTube and email as Mack talks, mimics, dances and more. Go bananas!
Features:

Text and Talk: Enter any text and tap the speaker button to hear Mack talk. It's the best text talk feature in any talking app.
Mimic: Talk into the microphone and hear Mack repeat everything in a funny voice.
Cute, Funny and Smart Speech Presets: Tap the speech button to have Mack say amusing preset phrases.
Record and Share: Easily capture video of Mack's antics to share via Facebook, YouTube and email.
Change Playback Speed and Pitch: Speed up and slow down talk speed and choose between high- and low-pitched voices.
3 Fun Emotions: Tap the emotion button to take Mack from normal to angry to happy.
Special Animation: See Mack go ape as he dances and jumps.
Random Mode: Let Mack choose what to say.
Great for Kids
In-App Purchases:

Additional Speech Packs including Funny Essentials, Funny Sarcasm, Parenting Humor, Silly Jokes for Kids and the Wisdom of Mark Twain
Create Presets
Special Animation Pack
Headquartered in San Mateo, California, Selectsoft is a leading developer of family-friendly games and apps, creating best-selling games for iOS, consoles, Android, Mac and PC. It's also one of the largest independent publishers of PC and Mac software, featuring licensed content from Broderbund, Disney, The Learning Company and many more. For almost 20 years, Selectsoft has been dedicated to providing affordable, fun entertainment for the whole family. Visit http://www.selectsoft.com to learn more.