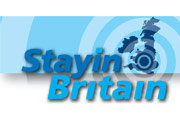 Petersfield, Hampshire (PRWEB UK) 30 April 2012
StayInBritain are an online business focused on providing all the information needed by travellers looking to stay in Britain for a short break or a longer holiday. They cover Self catering cottages and apartments, as well as Bed and Breakfast, Camp sites, Guest House, Hotels, Narrow Boats, Lodges, Holiday parks - and pretty much any type of accommodation in Britain you can name! On top of that, they even have a search engine for Restaurants, Attractions and Pubs/Bars to find the best places to eat and things to do in your chosen destination.
The people behind http://www.stayinbritain.co.uk have just released a free guide in the form of an eBook which explains in detail the names and standards used throughout the four different tourist authorities in Britain - England, Scotland, Wales and Northern Ireland. This is particularly timely with the impending 2012 Olympics, as the influx of thousands of overseas visitors will need suitable accommodation if they don't have it already, and you won't find any Motels, Condos or Gites in these parts! The guide aims to help people who have never stayed in Britain before understand the ratings systems used, and understand the difference between a motel and hotel, and a self catering apartment and condo. For those that have stayed in Britain before the site has one of the largest selections of properties to search, so whether you're looking for a hotel in Winchester or a bed and breakfast in Skegness, StayInBritain is the perfect one stop shop.
ABOUT STAYinBRITAIN
Established since 1999, StayInBritain is run by a small team of travel and tourism professionals based in Petersfield Hampshire. They specialise in providing visitors to Britain with information on all aspects of leisure and tourism in Britain. They have over 40,000 places to stay in the UK on their main website, and welcome enquires from properties of all types and sizes.