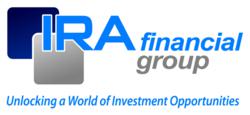 Through our IRA transaction review process, our IRA tax experts have been able to help clients avoid potential prohibited transaction and thus safeguard their retirement funds
Miami, FL (PRWEB) August 23, 2012
IRA Financial Group, the leading facilitator of self-directed IRA LLC retirement solutions, announces that it will begin offering free self directed IRA tax consultation services to all new IRA clients for the initial year. Each new client of the IRA Financial Group will have the opportunity to consult with an IRA tax expert who will assist the client in making sure a potential IRA transaction would not violate any of the IRS prohibited transaction rules. "Because an IRA custodian is not permitted to offer any tax or legal advice to its clients, we have seen an growing demand for a tax consultation service who will offer clients access to tax experts who can answer tax specific questions about a potential IRA transaction, " stated Adam Bergman, a tax attorney with the IRA Financial Group. "Through our IRA transaction review process, our IRA tax experts have been able to help clients avoid potential prohibited transaction and thus safeguard their retirement funds, " stated Mr. Bergman. "I think one of the most valuable aspects our self-directed IRA establishment services is our IRA tax consultation services which is provided free of charge to all clients for one year," stated Maria Ritsi, a paralegal with the IRA Financial Group.
IRA Financial Group's goal is to provide our clients with direct access to IRA tax experts who can assist with the review of potential IRA transaction so that our clients are not engaging in any transaction that violates IRS rules.
The Internal Revenue Code does not describe what a Self Directed IRA can invest in, only what it cannot invest in. Internal Revenue Code Sections 408 & 4975 prohibits Disqualified Persons from engaging in certain type of transactions. The purpose of these rules is to encourage the use of IRAs for accumulation of retirement savings and to prohibit those in control of IRAs from taking advantage of the tax benefits for their personal account.
The prohibited transaction rules are extremely broad and the penalties extremely harsh (immediate disqualification of entire IRA plus penalty). "IRA Financial Group believes strongly that an IRA owner self-directing his or her investments should work with a tax attorney who can help explain and uncover potentially prohibited as well as fraudulent transactions," stated Ms. Ritsi.
The IRA Financial Group was founded by a group of top law firm tax and ERISA lawyers who have worked at some of the largest law firms in the United States, such as White & Case LLP, Dewey & LeBoeuf LLP, and Thelen LLP. With our work experience at some of the largest law firms in the country, our attorneys legal and tax knowledge in this area is unmatched.
IRA Financial Group is the market's leading "checkbook control Self Directed IRA Facilitator. IRA Financial Group has helped thousands of clients take back control over their retirement funds while gaining the ability to invest in almost any type of investment, including real estate without custodian consent.
To learn more about the IRA Financial Group please visit our website at http://www.irafinancialgroup.com or call 800-472-0646.