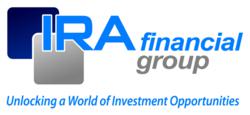 Real estate professionals are often amazed that individuals can use their retirement funds to buy real estate for investment purposes tax-free
Miami, FL (PRWEB) May 24, 2012
On May 23, 2012, Adam Bergman, a tax attorney with the IRA Financial group spoke to a select group of real estate professionals from the Southeast Florida Real Estate Investors Association (SEFREIA) about using a Self Directed IRA or Solo 401(k) plan to buy real estate. Mr. Bergman gave an in-depth overview of the advantages of using retirement funds to make real estate investments tax-free. The presentation covered the opportunities that a self-directed IRA or Solo 401(k) plan can offer potential clients looking to buy real estate in Florida. "With over 13 trillion dollars in retirement funds available for investment and with over 45 million IRAs, educating real estate professionals about the opportunity to use retirement funds to buy real estate will help open an enormous potential client base," stated Adam Bergman. "Real estate professionals are often amazed that individuals can use their retirement funds to buy real estate for investment purposes tax-free, " stated Mr. Bergman.
The IRS has always permitted an IRA or Solo 401K Plan to purchase real estate, raw land, or rental properties.
With IRA Financial Group's Self Directed IRA LLC, the IRA holder will serve as manager of the LLC providing the IRA holder with "checkbook control" over his or her retirement funds. With the self-directed IRA LLC, an IRA holder will have the opportunity to make Self Directed IRA investments by simply writing a check. "The self-directed IRA LLC solutions offers investors a way to make real estate and other investments tax-free along with presenting the individual with asset and creditor protection," stated Adam Bergman, a tax attorney with the IRA Financial Group. "Investors growing their retirements funds through a self-directed IRA LLC will be able to better protect their assets from creditor and asset protection," stated Mr. Bergman.
The Internal Revenue Code does not describe what a Self Directed IRA can invest in, only what it cannot invest in. Internal Revenue Code Sections 408 & 4975 prohibits Disqualified Persons from engaging in certain type of transactions. The purpose of these rules is to encourage the use of IRAs for accumulation of retirement savings and to prohibit those in control of IRAs from taking advantage of the tax benefits for their personal account.
The IRA Financial Group was founded by a group of top law firm tax and ERISA lawyers who have worked at some of the largest law firms in the United States, such as White & Case LLP, Dewey & LeBoeuf LLP, and Thelen LLP.
IRA Financial Group is the market's leading "checkbook control Self Directed IRA Facilitator. IRA Financial Group has helped thousands of clients take back control over their retirement funds while gaining the ability to invest in almost any type of investment, including real estate without custodian consent.
To learn more about the IRA Financial Group please visit our website at http://www.irafinancialgroup.com or call 800-472-0646.