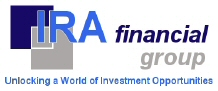 By simply texting the word "IRAFG" to 69302, potential clients' will receive information about Self-Directed IRA and Solo 401(k) plans
Miami, FL (PRWEB) February 18, 2012
IRA Financial Group, the leading provider of "Checkbook Controlled" Self-Directed IRA and Solo 401 (K) plans, has recently contracted the services of Text Marketing Miami to expand its client base via text messages.
IRA Financial Group, with offices in New York and Miami and clients all over the country, relies heavily on technology to promote and conduct business. Text Marketing Miami provides an alternative, efficient means of communication for people on the go in this technology driven world. By simply texting the word "IRAFG" to 69302, potential clients' will receive information about Self-Directed IRA and Solo 401(k) plans.
A Self-Directed IRA, also called a Self-Directed IRA LLC with checkbook control, is an IRS approved structure that allows one to use their retirement funds to make real estate and other investments tax-free and without custodian consent. The Self-Directed IRA involves the establishment of a limited liability company ("LLC") that is owned by the IRA (care of the IRA custodian) and managed by THE IRA holder or any third-party. As manager of the IRA LLC, the IRA holder will have control over his or her IRA assets to make the investments they want and understand – not just investments forced upon them by Wall Street.
The tax experts at the IRA Financial Group have helped thousands of people take back control of their retirement funds by investing in domestic real estate. Now their expert tax attorneys have expanded their Self-Directed IRA program to include international investments. The IRA Financial Group has launched a platform for Self Directed IRA real estate investors to use retirement funds to purchase foreign real estate all over the world tax-free. "Our tax experts have carefully studied international tax treaties as well as local tax rules to offer our clients with a customized self-directed IRA platform for making tax efficient foreign real estate investments," states Adam Bergman, a tax attorney at the IRA Financial Group.
IRA Financial Group will take care of setting up your entire Self-Directed IRA LLC structure. The whole process can be handled by phone, email, fax, or mail and typically takes between 7-21 days to complete, the timing largely depending on the state of formation and the custodian holding your retirement funds. IRA experts and tax and ERISA attorneys are on site greatly reducing the set-up time and cost. Most importantly, each client of the IRA Financial Group is assigned a tax attorney to help with the establishment of the Self-Directed IRA LLC structure for purposes of making foreign real estate investments.
IRA Financial Group was founded by a group of top law firm tax and ERISA lawyers who have worked at some of the largest law firms in the United States, such as White & Case LLP and Dewey & LeBoeuf LLP.
IRA Financial Group is the market's leading "Checkbook Control" Self-Directed IRA and Solo 401k Plan Facilitator and has helped thousands of clients take back control over their retirement funds while gaining the ability to invest in almost any type of investment, including real estate tax-free and without custodian consent!
To learn more about the IRA Financial Group please visit our website at http://www.irafinancialgroup.com or call 800-472-0646.
To learn more about Text Marketing Miami, please visit TextMarketingMiami.com
###