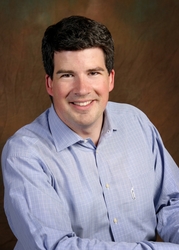 Stephan has some impressive experience and is massively driven
Seattle (Vocus) January 14, 2008
Today, Stephan Roche, former vice president and general manager of ShareBuilder Corp., joined Guidant Financial Group, a leading provider of self-directed IRA services and business funding solutions, as President and Chief Operating Officer (COO).
In his new position at the Bellevue, Washington-based company, Roche is tasked with creating greater operational efficiencies within the business, developing management-team competencies, identifying strategic enterprise-level partnerships and executing major company initiatives.
David Nilssen, current president and CEO of Guidant, has handed the presidential reins over to Roche while retaining his CEO position. "Stephan and I will helm the next phase of Guidant's accelerating growth by working together as a team," says Nilssen. "Stephan has a near textbook perfect business pedigree and impressive expertise in the retirement plan industry, which is very relevant to our business. His Harvard M.B.A. and large-company experience are perfect complements to our company's entrepreneurial spirit."
Roche brings to Guidant more than 15 years of experience driving growth strategies, major marketing, and business development initiatives for high-profile companies. At ShareBuilder Corp., recently purchased by ING Direct, Roche led all aspects of the company's 401(k) business unit and served as one of four members of the company's executive team.
Before joining ShareBuilder in 2004, Roche was a Senior Manager at Bain & Company, leading projects on growth strategy, business development, marketing, and operational excellence for major corporations as well as private equity firms. Roche began his career in brand management at Procter & Gamble and Church & Dwight.
In addition to being a 2006 Puget Sound Business Journal "40 under 40" honoree, Roche graduated cum laude with a B.A. from Princeton University and earned an M.B.A. from Harvard Business School.
"Stephan has some impressive experience and is massively driven," says Nilssen. "This is someone who piloted a successful career at Bain while having triplets with his wife Catherine! He brings the perfect balance of expertise and creativity to Guidant, along with a strong sense of social responsibility. Bringing Stephan on board is a great way to usher in the New Year."
About Guidant Financial Group
Guidant Financial Group is the premier provider of self-directed IRAs and business-funding solutions through IRAs and 401(k)s. Guidant's services allow investors the freedom to make investments in real estate, franchises, businesses, tax liens and more by accessing their retirement accounts without penalty before retirement age. For more information on Self-directed IRAs or Business Financing please visit http://www.guidantfinancial.com .
Photographs are available upon request.
###