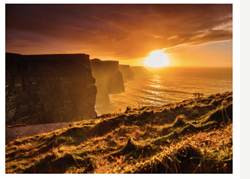 Ireland is bursting with a large pool of technology and design talent, and we aim to leverage it to expand our presence while creating exceptional digital products. 'The Celtic Tiger 3.0' is happening, and we are excited to take part in it."
Dublin, Ireland (PRWEB) September 22, 2014
Semilla Ventures LLC., an angel investing venture fund based in New York, announces its first seed investment in Roady Guides: Ireland.
Roady Guides is a self-drive guide tour app for the iPhone that provides over 100 short and insightful audio commentaries for Ireland's most popular attractions — all based on your phone's GPS location. Roady Guides was developed in its entirety in Ireland, and it combines the freedom of an open road trip and the benefits of a guided tour, together as a single product.
The app features six driving tours in the Irish counties of Galway, Kerry, Wicklow, Cork and county Antrim in Northern Ireland.
Boris Chamorro, Managing Director of Crann & Semilla Ventures Ltd, the Ireland-based affiliate of Semilla Ventures, said "We are very excited for the launch of our first project. The travel industry in Ireland is growing exponentially and we are positioning Roady Guides as a tool for domestic and international visitors to enjoy Ireland's beauty and heritage in a different way." He continued, "Ireland is bursting with a large pool of technology and design talent, and we aim to leverage it to expand our presence while creating exceptional digital products. 'The Celtic Tiger 3.0' is happening, and we are excited to take part in it."
Gerard Kelly from Getchoo Creations, the software design agency in Ireland that developed Roady, said: "We are pleased to be part of the Roady Guides project. It was a pleasure to work with the Crann & Semilla Ventures' team to create an innovative solution that tourists will find a joy to use."
**END**
About Crann & Semilla Ventures Ltd.
Crann & Semilla Ventures Ltd. is an investment fund based in Dublin and is an affliate of Semilla Ventures, an angel investment fund based in New York City. With over 60 years of combined experience in finance, technology and design, Crann & Semilla Ventures Ldt. is investing in Ireland to leverage its prominent role as a hub of technical prowess and technology advancement in western Europe.
Download Roady Guides on the AppStore
https://itunes.apple.com/app/id907958727?mt=8
Follow us on twitter: https://twitter.com/roadyguides
Follow us in Instagram: http://instagram.com/roadyguides