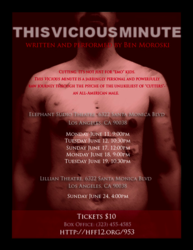 This Vicious Minute," Moroski explains, "is my attempt to lay it bare for the world to see. It is an achingly personal journey through a life plagued by an addiction that is too often shrouded in mystery, misunderstanding and shame.
Woodland Hills, CA (PRWEB) June 11, 2012
"This Vicious Minute," a revealing autobiographical play written and performed by confessed self-harmer, Ben Moroski, debuts at the Hollywood Fringe Festival today, June 11th, through the 24th.
Billed as a "jarringly personal journey through the psyche of the unlikeliest of 'cutters' – an All American Male," Moroski describes the performance as "a journey about finding the strength to live the only minute we have – this present, this precious, this vicious minute."
One of Moroski's goals in sharing his own intimate story is to help break down commonly held misconceptions about self-harm and to speak honestly about a disturbing subject that few understand or take the time to address openly.
Moroski completed his long-term goal of writing a one-man autobiographical play through an "Action Workshop" within the supportive services of the Los Angeles area based Optimum Performance Institute's specialized Roanne Program that he attended for help with his addiction to self injure, one of his Borderline Personality Disorder traits.
"This Vicious Minute," Moroski explains, "is my attempt to lay it bare for the world to see. It is an achingly personal journey through a life plagued by an addiction that is too often shrouded in mystery, misunderstanding and shame."
Moroski suffers from Borderline Personality Disorder, also known as BPD, and his performance reveals a powerful, raw autobiographical story of his ongoing battle and recovery with self-injury and how has taken back control over his life.
"I could not have created this show or produced it without the help and support of the Optimum Performance Institute community," said Moroski in a recent interview. "I would not be where I am today in general without OPI."
The Action Workshops within the Roanne Program Immersion and Mobilization/Integration Phases that Moroski attended are guided by therapists and experienced Life Coaches at OPI. Currently Moroski is in Roanne outpatient care.
According to Psychology Today, Borderline Personality Disorder in men is often overlooked or misdiagnosed for a variety of reasons, even though BPD is believed by many professionals to afflict men and women equally.
Recent news about Chicago Bears wide receiver Brandon Marshall has brought some light to the disorder occurring in men, but unfortunately, word generally only comes out when some sort of incident involving law enforcement gets publicized by the media, contrary to Moroski's embark on sharing his personal journey to others who might benefit from hearing it in a public forum.
The Roanne Program at OPI is believed to be the first therapeutic/residential program in the country to treat males as young as 17 with BPD as well as females. Most programs do not accept young men.
"We provide the opportunity for young adults who are said to exhibit BPD traits or disorder, or co-occurring conditions including self-injury, an opportunity to get help that actually works," says Dr. Robert F. Fischer, Founder and Executive Director of OPI and the Roanne Program. "The earlier the intervention, the better the outcome."
The first goal of the Roanne Program at OPI is to help participants learn to stabilize and regulate their emotions in real life situations in a supportive, therapeutic environment. The second goal is to help participants find balance and direction in their lives, discover personal goals through a variety of opportunities and experiences, including Actions Workshops, and persevere at the tasks necessary to reach these goals.
"This Vicious Minute" will be performed at the Elephant Studio Theatre at Elephant Stages, 6322 Santa Monica Blvd., Los Angeles. Tickets are $10 and can be purchased online at http://www.hollywoodfringe.org/projects/953, through the Hollywood Fringe Festival box office at (323) 455-4585 or at the door.
Moroski received a Kennedy Center for the Performing Arts Award for Outstanding Contribution in the Area of Playwriting while earning his bachelor's degree in English from UC Davis. He has acted in many plays and was a member of the Acting Apprentice Company at the 2009 Williamstown Theater Festival.
The Roanne Program, a specialized program within the Optimum Performance Institute (OPI), is a breakthrough Borderline Personality Disorder program for men and women ages 17-28 with Borderline Traits or Borderline Personality Disorder (BPD) and co-occurring conditions.
For nearly a decade OPI has helped young adults find emotional stability, balance and direction in their lives. OPI is accredited by the National Joint Commission on Accreditation of Health Care Organizations (JCAHO) because of the quality of its care and programs.
The Optimum Performance Institute and Roanne Program are located in Woodland Hills, California. For more information on the Roanne Program visit http://www.RoanneProgram.com ~ for more info on OPI, visit http://www.OPILiving.com
OPI Living: We Treat the WHOLE PERSON not just the diagnosis.