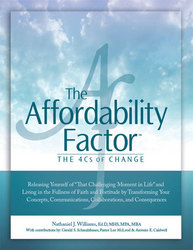 Bethlehem, PA (PRWEB) September 10, 2009
THE AFFORDABILITY FACTOR: The 4Cs of Change (September 1, 2009; $29.95) by Nathaniel J. Williams provides a liberating framework for self-discovery and meaningful change for anyone seeking to achieve their full potential. When individuals recognize that they control their own decisions, it is learned that all have the power to control their lives. By assessing one's life using The Affordability Factor, one will gain an understanding of the psychological underpinnings of 'affordability' and discover how to remove the hurdles and increase each's own 'affordability factor'.
Dr. Williams explains that everyone experiences "challenging life events" be it the loss of a parent, financial struggles, trauma or hardship. Too often, though, life's challenges are seen as rationale or justification to make poor decisions. People convince themselves that they are owed something to make up for the abandonment, loss and difficulties of life and that 'wrong' isn't really wrong when life has been so hard. This is why reframing the events that shape lives is key to changing those lives for the better. Dr. Williams writes:
"Our personal philosophy and working concepts either block or launch our pursuit of goals and aspirations. Our processing of, or inability to process, a challenging life event reflects itself in all of the domains of our lives, including education, health, finances, personal development, recreation, spirituality, family and friends, environment, personal philosophy, and our ability to implement the 4Cs of Change."
Dr. Williams' 4Cs of Change are centered on the premise that people could do so much more if they only realized the concepts, communications, collaborations, and consequences that bind to a less-than-desirable existence, unplanned outcomes, and low Affordability. The 4Cs include:
1. Concepts-- attach meaning to specific ideas, and understanding to events.
2. Communications--enable individuals to understand what others need and allow the justification of decisions to reflect those needs
3. Collaboration--requires suppression of individuality and working as part of a team
4. Consequences--becoming aware of situations and recognizing that everyone controls his/her own actions and outcomes.
In The Affordability Factor, Dr. Williams provides all of the insights and tools needed to assess one's own affordability, and urges people, prior to engaging in any decision making, to stop and ask if the decision--and the consequences--are 'affordable'.
About the Book:
THE AFFORDABILITY FACTOR: The 4Cs of Change
By Nathaniel J. Williams, Ed.D., MHS, MPA, MBA
Publication date: September 1, 2009
Price: $29.95
ISBN: 978-0-9814742-4-3
Available at http://www.amazon.com and http://www.theaffordabilityfactor.net
More Information Online at http://www.nj-williams.com
###