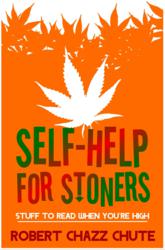 A year after taking the leap, I handed director Kevin Smith, the book I dedicated to him: Self-help for Stoners.
London, Ontario (PRWEB) February 08, 2012
Ex Parte Press founder and author Robert Chazz Chute announced the release of his self-published book, Self-help for Stoners, in a very unusual venue recently. The news went out to 500 theatres at once across North America.
At Kevin Smith's Live From Behind Show in Toronto, Mr. Chute stepped onstage and handed his first paperback to the film director who inspired him to become an author. "Self-help for Stoners is available everywhere electronically, but to get it on paper, you have to order it and wait a bit and it costs more. That's why this is the Titanium Age of Books. We are impatient to fill our brains with more and ebooks deliver. We want our books arriving faster and cheaper. I call this theTitanium Age of Books," he added, "because my weapon of choice is a Mac. I'm glad I didn't keep my life on hold, waiting for someone else to be discovered."
In 2010, Mr. Chute attended a Q&A with actor, author, podcaster and director Kevin Smith. The director implored artists not to "chase the puck" but to instead follow Walter Gretzky's advice of being where the puck is going to be. "I founded Ex Parte Press to accept that challenge," Mr. Chute said. "I quit my job of twenty years and I'm now podcasting (Self-help for Stoners on iTunes and Stitcher) and writing full-time."
Mr. Chute continued, "While many bookstores close and others shrink, the digital die has been cast. We can't stuff the clowns back in the clown car. They're out and enjoying autonomy of self and thought. I write online books. No apologies, waffling or worrying about the fall of civilization. The world didn't blow up because we no longer use eight-track tapes. Ebooks are a win for writers and readers. Readers get more choice and we're charging fees for entertainment that are commensurate with the state of the economy. We are writers whose anointment comes from the public. New media are very democratic that way."
Most traditional media outlets still do not review self-published digital books, a policy Mr. Chute says is now out of date. "We have to make more space and time for online authors working in new, non-traditional media. We're out here. We write, seethe, revise and grow. We are legion and we're getting pissed off about being underestimated," Mr. Chute said.
Mr. Chute is the author of Self-help for Stoners, Sex, Death & Mind Control and The Dangerous Kind. He has electronically published seven eBooks in all and three novels are coming in 2012. "I used to work in the traditional publishing industry, but that's not where the puck is going. We must not simply adapt. We must embrace change," Mr. Chute added.
Robert Chazz Chute
http://www.allthatchazz.com
519-679-2014
expartepress(at)gmail(dot)com
Robert Chazz Chute is the author of: Self-help for Stoners, Sex, Death & Mind Control (for fun and profit), The Dangerous Kind, Asia Unbound, Parting Shots, Vengeance is #1 and Corrective Measures. His podcast is also called Self-help for Stoners.
###