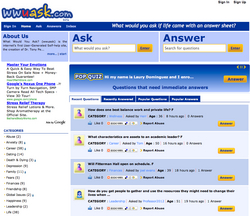 My greatest passion is helping people and now I'm taking that interest and sharing it, using a new—and what I think is the best—vehicle of communication.
New York, NY (Vocus) March 23, 2010
One of the Internet's first user-generated, self-help website, http://www.wwuask.com (What Would You Ask?), has been launched, and reflecting our global society has already attracted views from countries as diverse as India, Dominican Republic, Canada, Iran, Singapore, Spain, Germany, China, Turkey, the Netherlands—and every region of the United States.
What Would You Ask? was created by Antonio Perez, President of Borough of Manhattan Community College (BMCC). Leading a college which serves 23,000 students, as well as having earned a doctorate in counseling gives Dr. Perez the unique insight to take on this growing web project.
Wisdom of the community
The website began with an informal online survey in which Perez posed this question to students, friends and colleagues: "What would you ask, if life came with an answer sheet?" Over 500 responses made it clear that people had real questions about life, and would welcome a thoughtful forum in which to ask them.
Calling on the advice of a larger community caught Perez's attention in the early days of the popular television show, Who Wants to be a Millionaire? which gave contestants the option of asking advice of the audience—which was correct 92 percent of the time.
When it became evident to Perez that there is a valuable community of individuals available to help people resolve the questions life presents, he began exploring the means to tap into it.
The best vehicle of communication
What Would You Ask? brings together people with life questions, and people with life experience, to answer them. Finding the most accessible forum for that exchange meant going online.
"It's how the general population communicates," says Perez. "My greatest passion is helping people and now I'm taking that interest and sharing it, using a new—and what I think is the best—vehicle of communication."
"We all have issues and setbacks," says Perez. "And there's never a straight line to solve a problem. But if someone lets you shorten that trip a little, through the ability to share with others, that makes a huge difference. When I look at the site (wwuask.com), I'm impressed at the amount of time people spend writing their replies, and how thoughtful they are. It rejuvenates my belief that at the end of the day, we really do care about other people."
Coping with the "Pop Quizzes" of life
Perez has noticed certain "commonalities of life," as he puts it, in the topics that come up on What Would You Ask?
"I'd say from the age of 18 to the early 30s, career and selecting a partner seem to be many people's priorities," he's observed. "In the late 40s, we go through the 'should have, could have, would have' phase, asking ourselves if we are on the right track with our careers and lives, and focusing on our role as parents. In the late 50s, and early 60s we begin to ask, 'What will be my legacy?' and "Have I accomplished those things in life I intended to do?'"
In addition to these more reflective questions, What Would You Ask? attracts questions related to more immediate situations. "We never count on the 'pop quizzes' of life," says Perez. "We never see them coming—the sickness, loss of jobs, divorce."
"The thread that separates us in life is small"
The expertise informing peer responses to questions posted on the site—whether they're philosophical or practical, professional or personal—seems to come from life experience, Perez has observed, not a person's demographic or economic identity.
"When people write in response to, or ask a question, all you know is their gender and age. You don't know what they do for a living, or their educational background—and that doesn't matter. Their advice is still useful."
"The thread that separates us in life is very small," says Perez. "We all share similar questions about life, but at the time feel as if we're the only ones. This website (wwuask.com) reconnects people around the questions that life brings up, and the answers we can provide for each other."
###