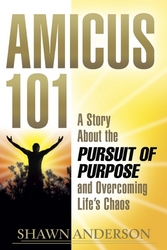 My sales numbers had been okay, but what I was lacking was a clear self-vision and passion. Amicus 101 gave me a serious passion kick, and my results over the last six months have never been better. I love sales again.
Marina Del Rey, CA (Vocus) March 23, 2010
Motivational speaker, success coach, and writer Shawn Anderson provides 21 success secrets to increase momentum and sales productivity through his latest inspirational book Amicus 101: A Story About the Pursuit of Purpose and Overcoming Life's Chaos. Geared for sales people, entrepreneurs, and MLM professionals who are looking for a boost to push them to greater success, Anderson's book seeks to revitalize veteran sales people and inspire new sales members. Daisy Larios, a Senior Sales Manager for Marriott Hotels, agrees. "My sales numbers had been okay, but what I was lacking was a clear self-vision and passion. Amicus 101 gave me a serious passion kick, and my results over the last six months have never been better. I love sales again."
Most self-help books seek to encourage readers by recording in detailed, analytical fashion a list of how-to-succeed do's and don'ts. Amicus 101 takes a fresh and unique approach by sharing success secrets through the eyes of a fictional teacher named Amicus. "I introduce readers to Amicus…the greatest possibility teacher of all time," Anderson says. "Amicus' perspective…and his style of teaching…bring out our individual passions at a deeper level than typical motivational books. The power of Amicus' lessons seems different because he is different."
In the book, the mysterious instructor Amicus shares with his student 21 life-transforming lessons. John Ireland of Los Angeles' KCAL9 Sports Team believes, "Amicus 101 is a story that will give hope and inspiration—no matter what your circumstances."
In Amicus 101, each unique lesson highlights deeper insight into what it takes for a reader to not only find a more inspired level of career passion, but to ultimately catapult each individual to a higher level of performance and success.
Amicus 101 seeks to energize sales individuals who have lost their momentum or who are just starting out. "Salespeople often lose their sales mojo or have a tough time stepping outside their own door when they let rejection rule their thinking," Anderson says. "When that happens, the field of sales can be completely discouraging. Amicus 101 charges up the sales person's battery in a very entertaining way." Anderson continues, "Amicus 101 reminds us why we as salespeople love what we do. It also triggers a magic switch that allows us to go back out in the field and produce big-time results!"
Monique Biggs, a sales consultant for Color Me Cute, found this to be true for her: "I was deeply inspired and challenged after reading this book. It came at the right moment despite times being hard. I felt Amicus 101 was speaking directly to me!"
Shawn Anderson doesn't just talk the talk about purpose, passion, possibility, and going the extra mile…he lives it differently than most. With a life mission of "empowering 1,000,000 people to lead a more positive and purposeful existence," Shawn lets his actions do his speaking. A successful entrepreneur and coach on the topics of "possibility thinking and creating opportunity," Shawn last year pedaled over 4,000 miles on a bicycle from San Francisco to Boston interviewing over 200 individuals who had overcome significant challenges by going the extra mile in life. Referred to by media outlets across the country as the Extra Mile Man, Shawn personally gave away $10,000.00 to the individuals whose stories he found most inspiring.
Anderson began motivating people by motivating himself. Soon after graduating from University of California @ Berkeley with only $300 dollars, Anderson developed a success accountability system called S.O.A.R. (Seeing, Organizing, Acting, and Rejecting) while working the graveyard shift at a 7-11. Years later, he parlayed his success formula in his first book, SOAR to the Top! Together, Anderson's books have sold 65,000 copies. Additionally, he reaches an international audience through the M.A.P. to Success Circle!, his free weekly motivational newsletter that encourages people to take action on their dreams and to make them a reality.
"My juice in life is helping other people win. We all need a small nudge to remind us that the quality of our lives…and our individual success…is always determined by our own efforts." Anderson finishes, "That's what Amicus 101 does. It reminds us that if we want a great life, it starts with the person in the mirror."
Shawn Anderson is available for motivational speaking, corporate training, success coaching, and group fundraising.
###