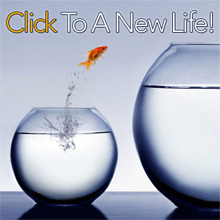 When people want to put their life on a new track they turn to self-help books, podcasts, seminars or more and more to a life coach
Colorado Springs, CO (PRWEB) July 30, 2009
"When people want to put their life on a new track they turn to self-help books, podcasts, seminars or more and more to a life coach," says Joseph Liberti, EQ At Work founder of EQ At Work. "Books or audio can be great but you can't ask the author a question or get personal support when you're stuck. And, there's no doubt that having your own life coach can put you on the fast track, but not everyone is prepared to pay $400 to $1000 a month or more. I wanted to help people make a positive life change in an affordable and effective way and Be True You BeTrueYou.Com does that for less than $100 month."
The course content delivered in recorded audio and supported with interactive workbooks and life coaching, comes from the EQ At Work method that has been used successfully with hundreds of leaders in major US companies since 1998. The method develops emotional intelligence to access authentic self. "I knew that we were having an impact on leadership effectiveness," says Liberti, "what was impressive was that our technique was providing a huge boost to self-esteem and self confidence, and that was creating the increase in performance. With our Be True You course, we can help the thousands of people who want to break the low self-esteem habit, but can't afford an executive coach."
To promote the new service EQ At Work is sponsoring a contest giving people a chance to Win A Life Coach - And A New Life! Five people will win telephone coaching for 26 weeks, plus lifetime access to an audio library of life skills lessons and motivation. To enter visit The Get A Life Contest. Entries must be submitted by August 31, 2009. For more information contact Joseph Liberti 888-379-6757.
###