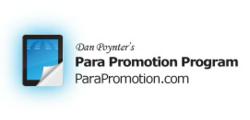 Whether you sell out to a publisher or publish yourself, the author must do the promotion. It is up to the author. --Dan Poynter, founder of Global E-Book Awards
Santa Barbara, California (PRWEB) November 19, 2011
The Para Promotion Program is a new series of book promotion projects the author can accomplish without leaving home. The weekly assignments show the author what to do to successfully reach his or her audience.
Each week, authors receive a book promotion assignment from Dan Poynter. Each of the 40 book-promotion projects takes the author anywhere from five to 120 minutes to complete. The program not only shows the author how to promote his or her current book, it is a crash course in book promotion that can be applied to future books.
Dan Poynter's Para Promotion Program is not an overwhelming list of projects for authors; it is a collection of individual lessons with full instructions and personal guidance by successful industry experts.
And there is an added bonus: authors who understand how to reach their audience tend to write books their readers want. The Para Promotion program makes authors more successful.
Dan Poynter has been in the book publishing business since 1969 and has written more than 125 books. He is often referred to as a "book futurist."
The Para Promotion Program may be started at any time—and runs for 40 weeks. For details, see: http://ParaPromotion.com
Don't your books deserve this sure-fire investment?
###