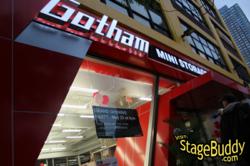 They really know how to throw a party at Gotham Mini Storage. We came for storage and left with lobster.
Manhattan, NY (PRWEB) June 28, 2013
On May 23, 2013 Gotham Mini Storage in Manhattan, NYC held their grand opening party with over 100 guests attending the event. Co-owner of the NYC self storage facility, Steve Schwartz, says, "It was a great success. We had a fantastic turnout and everyone had a wonderful time despite the torrential rain."
Food included lobster, shrimp, crab, tacos, frozen yogurt, and an open bar. The event was open to anyone who wanted to come including tenants and community residents alike. Even dogs were encouraged to come since Gotham Mini Storage is a pet-friendly facility with treats available for all pets on a daily basis.
Word of the grand opening spread quickly through the use of social media posts, distributed flyers, posters in the window and their website. Raffles were held and prizes included an iPad Mini, Barry's Bootcamp gift certificate, and a Gotham Mini Storage $200.00 gift certificate.
Other activities included free promotional items, such as Gotham branded tee-shirts, mesh bags, golf balls, and mini post-it pads. They also offered 10% off a month's rent for all tenants who brought three friends. A clothing drive was started for the event and attendees were asked to bring a piece of clothing for a donation. Kalea Owens, office manager at Gotham said, "Our first truck pick-up went to the Salvation Army. We will choose other worthy charities for future month's donations."
Adam Goldstein, manager for the self storage facility in NYC, laughs when he relates what one person at the party told. "They really know how to throw a party at Gotham Mini Storage. We came for storage and left with lobster."
About Gotham Mini Storage:
Located at the corner of 10th Avenue and 39th Street in Manhattan NYC, the new, gleaming self-storage facility is convenient to residents of Manhattan's Hell's Kitchen, Chelsea, and Midtown neighborhoods. Gotham Mini Storage offers 2,000 competitively priced brand new self storage units ranging in sizes from 4'x4' lockers through 80'x20' extra-large rooms. Storage units can be adapted with shelves, lights, clothing racks, and extra tall 11-foot ceilings to accommodate each client's special requirements. Aisles throughout are climate controlled, lit with energy efficient lighting, carpeted, and have over 100 security cameras. Customers enjoy free Wi-Fi, coffee bar, modern self-storage facility, and concierge moving solutions by experienced self-storage professionals. More information can be found on gothamministorage.com or by calling 212-931-5731.