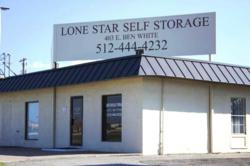 Get that stuff out of your hair and into our self storage units for only a $1.00!
Austin, TX (PRWEB) October 09, 2012
Extra space is not always a luxury. Home owners and renters often need more space for those extra things around the house or apartment – perhaps even a boat or motorcycle. Individuals and families that are moving sometimes need temporary storage while they organize their new location. Small businesses are forever looking for space for those old records that would be better kept somewhere else. And tradesmen, too, find they need extra space for materials and/or tools.
To help alleviate this space crunch, Lone Star Self Storage on East Ben White has just introduced the $1 deal – the first month of storage for only $1 with a six month contract.
"Get that stuff out of your hair and into our self storage units for only a $1," delights Kelly Jackson, the manager of Lone Star Self Storage. "We know that almost everyone has a lot of stuff they've been saving up and are hard pressed for space. So we came up with this deal that anyone can take advantage of – a buck for the first month on a six-month contract."
What makes it so sweet is that for over 30 years, Lone Star has been Austin's premier self storage facility and has 430 units to store excess belongings or just about anything. There is also drive-up access to all units!
Unit sizes available and pricing are:

5 x 5 — $35/month
5 x 10 — $60/month
10 x 10 — $85/month
10 x 15 — $115/month
10 x 20 — $130/month
10 x 30 — $140/month
Parking — $60/month
Lone Star Self Storage makes it easy because there are:

No deposits!
No administration fees!
No long-term leases required!*
Month-to-month contracts!*
(*Other than our $1 special)
Taking advantage of this offer is simple: All anyone needs to do is come on down to Lone Star Self-Storage and bring a lock (or buy one on-site) and all the paperwork will be done in less than 15 minutes.
Excess stuff can then be speedily put away in any unit with the available drive-up access. Lone Star Self Storage is open 365 day a year with gate access from 7am to 8pm, seven days a week - even 24 hour access can be arranged.
Lone Star has numerous security measures in place:
Key-code access
CCTV surveillance cameras
Perimeter fencing
Reinforced units
High quality locks
Routine property checks daily
At least one person on premises throughout the day, often three or more
"So whether you're looking for short-term moving and storage or a long-term space for those old business records, come on down to Lone Star Self Storage and get your stuff in storage and save a whole bunch of greenbacks. We've got your back," says Kelly.
ABOUT KELLY JACKSON
Kelly has been the manger of Lone Star for the last dozen years and has been in the rental industry for 25 years. She helped over 4,000 Austinites with their short and long term storage needs. Kelly can be reached at (512) 444-4232.