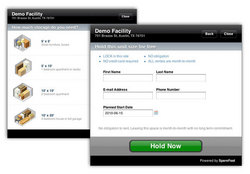 The Booking Widget's simple, intuitive interface offers a much improved user experience and helps us convert more customers on our site.
Austin, TX (PRWEB) June 28, 2010
SpareFoot.com announced today the public release of the SpareFoot Booking Widget, a free web application that allows self storage operators to accept real-time reservations on their own websites and generate more tenants.
The Booking Widget installs on a storage website in minutes, and instantly gives operators the ability to accept reservations and convert online visitors into tenants. SpareFoot estimates more than 95% of visitors to a typical self storage website do not rent a unit. A major factor in this low conversion rate is the absence of a simple online reservation mechanism.
The Booking Widget solves this problem and allows consumers to view by-unit inventory/pricing and make a reservation in three easy steps. The Booking Widget also helps operators analyze the effectiveness of different online marketing channels by automatically identifying how each new tenant found their website.
John Williamson of 1st Choice Storage in Austin, TX experienced a 500% increase in his online conversion rate by using the SpareFoot Booking Widget on his website. "We had been using the reservation system that came with our inventory management software – but no one ever reserved a unit with it. The Booking Widget's simple, intuitive interface offers a much improved user experience and helps us convert more customers on our site."
"SpareFoot spent years developing our technology platform that allows us to accept online reservations and track the performance of our marketing campaigns," said SpareFoot CEO Chuck Gordon. "With the Booking Widget, we're giving storage operators free access to that technology for use on their own site."
Users of Centershift, Domico, SiteLink Web Edition and QuikStor can display real-time pricing and inventory from their management software on the Booking Widget. Operators using other management software can also utilize the Booking Widget through SpareFoot's simple account management interface.
The Booking Widget is 100% free to the self storage industry—there are no monthly fees, setup fees or per-reservation fees. To learn more about the Booking Widget and start generating new tenants for free, visit http://www.sparefoot.com/business/tools/booking-widget.html.
About SpareFoot
SpareFoot.com is an online marketplace for self storage. With more than 5,000 self storage listings nationwide, SpareFoot brings consumers a true comparison shopping experience to find the perfect storage unit. SpareFoot enables storage operators to increase occupancy by generating new tenants online with an entirely pay-for-performance model. For more information about SpareFoot, call (512) 705-6208 or visit http://www.sparefoot.com.
# # #