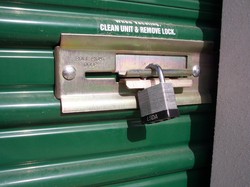 Texas has been a consistently strong economy and a strong performer in the Self Storage Industry
San Diego (PRWEB) May 8, 2008
Equity Based Services, Inc. ("EBS") announced today that they have acquired Storage Works on 417 N. Saginaw Blvd. in Saginaw, Texas. Storage Works represents the 5th Self Storage Property acquisition that EBS has closed in the last 3 months bringing EBS' holdings to a total of 51 properties and more than 3.2 million Net Rentable Square Feet. This brings the EBS unit holdings above 25,683 total units, with a current market value well exceeding $200 Million.
Currently EBS owns and operates 14 Self Storage facilities in the State of Texas. These properties are all run by EBS' in-house management company All American Property Management, Inc. ("AAPMI"). EBS re-brands its Self Storage facilities under the American Mini Storage brand that can be found at American Mini Storage.
"Texas has been a consistently strong economy and a strong performer in the Self Storage Industry," states Troy Downing, Manager of EBS, "Texas has continued to represent one of the fastest growth areas in the country. The opportunities for running successful operations around the larger population areas, such as Dallas, Austin, San Antonio, and Houston are enormous. We, at EBS, look forward to closing several more deals in these markets."
Storage Works is located 27 miles west of Dallas-Fort Worth International Airport, and 10 miles north east of the Naval Air Station Fort Worth Joint Reserve Base. This location is significant due to the close proximity of the base facility which has 2,139 active duty personnel, 7,087 Reserve/National Guard personnel, and 1,799 civilian employees.
The buildings that comprise Storage Works are situated on two parcels that total 134,165 square feet. The property is classified as "Community Commercial" and consists of 9 buildings that were constructed in 1978 and in 2002. Prior to purchase by EBS, the sellers reported occupancy at 88.8%.
EBS purchased Storage Works from equity in one of its closed Private Equity Funds, The EBS Income and Growth Fund II. EBS has a number of closed Private Equity Funds that invest primarily in Self Storage properties. These funds are all closed to new investors and EBS is using the capital raised in these funds to close approximately $150 Million in new acquisitions during the 2008 calendar year.
"The Self Storage Industry has been receiving considerable press and investor attention lately as it is largely a contrarian investment and does well in both a growing and a receding economy," says Troy Downing, Manager, EBS, "Self Storage thrives on change. When people are upsizing, downsizing, moving in, or moving out they use storage. As businesses expand and contract, they typically need storage. In terms of the investor, Self Storage is a strong cash flow business. This makes it a very attractive Investment Real Estate vehicle since the investor can collect revenues from the property and wait for an advantageous time to sell or refinance. In the typical Self Storage deal, even a heavily leveraged deal will pay expenses, pay debt service, and still cash flow."
EBS currently has several properties under contract and will continue to evaluate new deals in strong markets.
About Equity Based Services, Inc.
EBS is a private real estate company specializing in the opportunistic acquisition and management of self-storage commercial property. EBS currently owns and operates more than 50 Self-Storage properties in 9 states with a market value exceeding $200,000,000. EBS also manages a family of equity funds for institutional and high net worth individual investors. EBS funds invest in both stabilized income producing commercial property and value added, opportunistic commercial real estate. The EBS Income Fund, the EBS Income and Growth Fund II, and the Pilot Equity Value Added Fund all closed in 2007 and represent more than $16,000,000.00 in capital contributions. All portfolio properties are aggressively managed by All American Property Management, Inc., an EBS company, to maximize returns to Investors. For more information, contact Katie Raden at 619-220-6700.
This Press Release is for general informational purposes only and does not, in any way, constitute an offering to buy or sell securities.
###