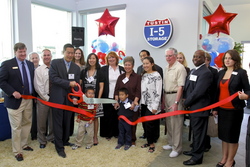 The facility of the Year award is a testimony to Wong's long struggle to create a first class self-storage facility for Southern California's customers
Tustin, CA (PRWEB) March 12, 2010
I-5 Self Storage, LLC is proud to announce that I-5 Self Storage in Tustin was awarded the coveted 2009 National Self Storage Facility of the Year in the Conversion Category by Mini-Storage Messenger. "It has been my longtime dream to create the finest self storage facility available, with critical focus on the customer experience,'' said Owner Randy Scott Wong, ''Without a doubt, this focus has brought great rewards."
There were many challenges to overcome in converting an old industrial site into a cutting edge retail self storage facility, which was enthusiastically described by a Tustin Councilmember as ''a Four Star Resort,'' at the well attended Ribbon Cutting Ceremony. Most visitors are surprised at the exceptionally high level of architectural and interior design, as well as customer service.
Catering to the overall client experience makes this facility unique in the industry. Whether a business or personal customer, amenities including complimentary wi-fi access, independent work stations, fresh coffee, conference room, and package acceptance are unsurpassed in this industry.
Clients appreciate the car enthusiast décor and theme prevalent throughout the plush office and common areas, as Wong previously worked in the motorsports industry, including test riding the fastest production motorcycle for BMW on the world famous Nurburgring Racetrack in 2004. Customers commenting ''it feels like a themepark,'' and enjoying exotic car shows and other community events hosted by I-5 Self Storage. Response has been overwhelmingly positive, with current client, Don Goldman of world famous car tuner, Hennessey Performance, affectionately calling the facility ''a spa for cars.''
I-5 Self Storage offers 24 hour recorded cameras, individual unit alarms, RV, boat, and classic car storage, free move-in trucks, automatic lighting, relaxing music, biometric security, and clean well lit facilities.
Most importantly, our staff has been hired for their remarkable ability to empathize with clients, as Manager Linda Todoroff reflected, "Transitions are often a stressful time and we're here to help the client in any way we can and make their experience enjoyable."
"The facility of the Year award is a testimony to Wong's long struggle to create a first class self-storage facility for Southern California's customers," said David Lucas, of Mini Storage Messenger.
A wide variety of indoor and outdoor spaces are available for lease, with over 180,000 rentable SF. Interested tenants are encourage to contact I-5 Self Storage at 714-669-0555, or visit our website at http://www.i5selfstorage.com .
About I-5 Self Storage, LLC
Randy Scott Wong, Esq., CCIM, is the owner and developer of this 7.1 acre project which is a mix of existing renovation and ground up construction, and took approximately 6 years of acquisition, design review, development and construction.
Contact:
Randy Scott Wong, Owner / Developer
I-5 Self Storage, LLC
949-718-4420
http://www.i5selfstorage.com
###