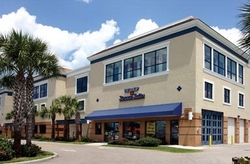 We take a lot of pride in providing our valued customers with the most state-of-the-art storage units available
Chicago, IL (PRWEB) April 25, 2010
The Lock Up, a Chicago based self storage company with *32 climate controlled storage facilities nationwide, is conducting a drawing to win $1000 in free rent at one of its locations. In addition to the $1,000 Grand Prize, a Second Prize of three months rent (or $500 maximum value) and Third Prize of two months rent (or $250 maximum value) will also be awarded.
"We take a lot of pride in providing our valued customers with the most state of the art storage units available," says Andrea Carnes, Vice President of Operations for The Lock Up Self Storage. "The opportunity to reward them with free rent is one way of showing our sincere appreciation their business." To enter the contest, both new and existing customers of The Lock Up simply go online to http://www.thelockup.com and fill out a short entry form. "The winners will be announced shortly after the close of the drawing on May 31, 2010," states Carnes.
With each self storage facility meticulously heated and air conditioned to protect temperature sensitive items and boasting such amenities as carpeted hallways and indoor loading bays, The Lock Up is known for being a cut above the average self storage company. In addition to the upscale interiors, the façade of each of their buildings is carefully designed to blend in with the look of surrounding businesses and residences. "We consider ourselves to be the Nordstrom of our industry," enthuses Carnes.
For more information on our self storage contest, check out http://news.thelockup.com, write to Acarnes4(at)gmail(dot)com, or call 866.327.LOCK.
About The Lock Up:
The Lock Up has been serving the storage needs of clients around the country since 1976. With climate-controlled wine storage units, 24-hour security monitoring and carpeted units, The Lock Up self storage facilities are designed to meet the needs of even the choosiest clients.
Media Contact:
Andrea Carnes
The Lock Up
866.327.LOCK
*Cape Cod's self storage facility is not climate controlled.
# # #