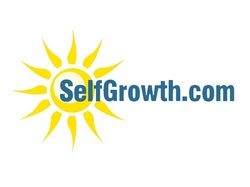 SelfGrowth.com gives self improvement experts a chance to help others and gain market visibility by sharing their original content. Join as an expert to start contributing.
Morganville, NJ (PRWEB) February 8, 2011
Self improvement supersite SelfGrowth.com is gearing up to provide one million online resources to help improve your life in 2011.
SelfGrowth.com now boasts more than 200,001 articles and resources from thousands of self help and self improvement experts. The site offers information on everything from Goal Setting and Stress Management to Natural Health and Relationships and gives self improvement experts everywhere a chance to help others and gain market visibility by sharing their original content. Anyone with an interest in self improvement can join the site as an expert in their field and begin contributing their articles, videos, and links to enlighten SelfGrowth.com's massive online community.
Riklan started his self improvement web site http://www.SelfGrowth.com as a hobby. What he didn't know then is that it would also become his full time business. His major goal for 2011 is to increase the number of resources (articles, videos, and other content) to one million and continue to attract new experts to the site. The company is well-positioned as the industry has shifted from in-person events to online delivery.
He got the idea to start his own business came after attending a Dale Carnegie training program. It was then that he realized that "life is an ongoing process of learning and improving," and self-improvement became a life-long obsession.
Several years later he spent $35 and bought the domain name SelfGrowth.com with his girlfriend, Michelle, who later became his wife. They started working together posting links to the best Self Improvement resources on the Internet. This has grown into a self improvement supersite with over 1.5 monthly visitors.
According to Marketdata Enterprises, the self improvement market was worth over $10 billion in 2009. They predict that the market will continue to grow with at an average of 5.5% through 2014. What has changed is that much of the industry has gone online. In a bad economy people are less willing to travel to seminars. Instead they are turning to less expensive alternatives such as webinars, ebooks, personal coaching by phone, self study courses, and audiobooks.
A report entitled: The U.S. Market For Self-Improvement Products & Services notes, "There is no shortage of demand for products and programs that cater to Americans' desire to make more money, lose weight, improve their relationships and business skills, cope with stress, or obtain a quick dose of motivation."
Riklan believes there is no single path to growth. "There is no single vision, belief or answer that will work for everyone. I gather the widest range of systems so people can find the best one for them," he said.
Find or add yourself as one of the experts on SelfGrowth.com by going to http://www.selfgrowth.com
About SelfGrowth.com
SelfGrowth.com is the leading provider of self improvement and personal growth information on the Internet. Founded in 1998 by David Riklan, the site gets over a million visits per month. Six e-mail newsletters go out to over 950,000 weekly subscribers. The company's mission is to provide informative, quality Self Improvement and Natural Health information to help people improve their lives.
# # #