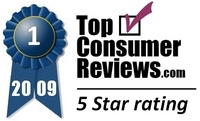 We're proud to receive TopConsumerReviews.com's highest rating
Overland Park, KS (PRWEB) July 8, 2009
TopConsumerReviews.com, LLC recently awarded their highest five-star rating to Mill City Press, a self publishing company that caters to the author.
"We're proud to receive TopConsumerReviews.com's highest rating," said Emily Weiss, Director of Publicity for Mill City Press. "Mill City Press represents a new era for self-publishing authors. Many self-publishing companies charge high or hidden fees for the most basic of services. Here at Mill City Press, we make sure our products and services are priced affordably while simultaneously providing the highest value and return for our customers."
Self-publishing companies provide everything an author needs to publish their book successfully. Services can include editing, printing, custom book covers, copyright registration, marketing, web hosting, web order fulfillment and more. However, self-publishing companies vary greatly in the service levels and fees they charge for these efforts.
"Unlike most self-publishing companies, Mill City Press allows authors to keep 100% of the royalties from the sale of their books," said Brian Dolezal, of TopConsumerReviews.com. "This is almost unheard of in the self-publishing industry and really proves the point that Mill City Press wants their authors to succeed. Another example is in printing costs. Most self-publishing companies will tack on extra fees for printing, so they make money every time a book is printed. Mill City Press, however, passes on these costs directly without any extra fees. For their wide range of quality services, and upfront honesty in dealing with their authors, Mill City Press earns our highest rating."
To find out more about Mill City Press and other self-publishing companies, including reviews and comparison rankings, please visit the Self Publishing category of TopConsumerReviews.com at topconsumerreviews.com/self-publishing.
About Mill City Press
Mill City Press is a Minnesota corporation headquartered in Minneapolis. They have a driving commitment to benefit their authors in everything they do. One of the principal investors is Click Industries, Ltd., an e-commerce company operating more than 30 websites that provide creative individuals (artists, writers, musicians) and small business entrepreneurs with affordable products and services to help with intellectual property rights, the business start-up process, and the protection of business assets.
About TopConsumerReviews.com
TopConsumerReviews.com is a leading provider of independent reviews and rankings of hundreds of consumer products and services. From popular diets and dating services, to debt consolidation programs and home security systems, TopConsumerReviews.com delivers in-depth product evaluations in order to make your purchasing decision easier.
###