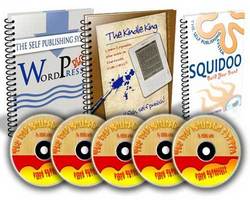 I want to make publishing accessible to all
Quinebaug, CT (PRWEB) October 21, 2009
Elliot Webbs' latest creation, The Self Publishing System, has been taking the self publishing world and turning it on its head. It is no longer just about an author with a huge bank account that can become published, It's in fact more about the author that sits in a room, with laptop in hand, and less income than an ice maker in the north pole.
Self publishing is a goldmine of potential for authors of any level, not only because of it's simplicity, but also the fact that it can be done on a shoe string budget, and in some cases can be done without costing a penny.
"I want to make publishing accessible to all," announced Elliot, whose latest product titled The Self Publishing System is currently selling for $47.
The idea behind putting this system together was to share his many hours of research in self publishing his own work, which is how he learned that it's actually not that hard to do at all. If you know where to go and how to go about it, self publishing can get your own creations in front of the world.
"I discovered in a very short space of time that you do not need to sell your home, or even a kidney! And even though there may be zero funds right now, that does not stop you from publishing your own work on Amazon and various other web based outlets," said Elliot.
With The Self Publishing System launched into the self publishing market, Elliot is hoping that this will give authors of all levels the means to share their own passions with the world.
"If you really have a desire to have your work read by as many people as possible, then consider self publishing as your means to accomplish your dreams - Just like I did," stated Elliot.
###