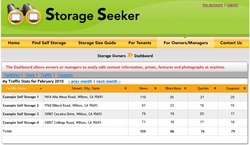 Seattle, WA (Vocus) March 3, 2010
StorageSeeker.com, a self storage comparison website, is pleased to announce an improved administrative and marketing interface for subscribers to its online self storage marketing platform. The improved administrative interface allows self storage companies to perform a number of editing- and tracking-related tasks related to their Premium Listing property pages on Storage Seeker.
One of the most valuable tools for Premium Listing subscribers offered with the redesigned interface is the ability to monitor the marketing performance results of their properties on Storage Seeker. Using the "Traffic" tab on the mini storage website's administrative interface, subscribers are able to actively monitor how many page views, driving directions views, quote requests and coupon requests their property has received during a given month. Historical month-by-month results are able to be viewed in this section as well. Traditional editing features are also available in the interface including changing property information, self storage unit prices and coupon specials offered.
Storage Seeker offers a pay-per-result pricing plan as well as monthly subscription plans for owners of self storage facilities nationwide. If you are a self storage owner or manager interested in signing up for Storage Seeker's service, please visit http://www.StorageSeeker.com/Contact for more information.
###