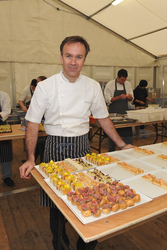 Installing the two Rational SCC101 units couldn't have been easier
(PRWeb UK) July 2, 2010
When Marcus Wareing cooked for royalty and top celebrities at the Audi Polo Challenge in May, 2010, he chose to use two Rational SelfCooking Center combi-steamers to ensure his menu was prepared to perfection and up to the high expectations of the guests.
The temporary catering facilities were set up in a huge marquee in the grounds of Cotworth Park, Ascot. Stones Events, who were in charge of the catering, had a team of 70 staff including chefs, waiting and bar staff to serve afternoon tea and dinner to 250 people each day.
"Installing the two Rational SCC101 units couldn't have been easier," said John Hand from Millennium, the company that installed the combis. "It was simply a case of unloading the machines, connecting them up to the portable generator and water supply, doing a test run and then letting the chefs get on with the cooking.
"That's the beauty of the SelfCooking Center," he explained. "Not only is it easy to use but it is very straightforward to install so it is ideal for temporary catering situations. The staff at the Audi Challenge knew how to use it so no training was needed."
Because the kitchen at Cotworth was in a marquee no extraction equipment was necessary, any steam produced during the cooking process was quickly dissipated in the 25 to 30ft high, well-ventilated tent roof area.
The fine food enjoyed by the guests included 375 lobster brioche, 500 hand-rolled chocolates and 110 Dorset crabs as well as many other delicacies.
Marcus Wareing uses Rational combi-steamers to cook his signature custard tart, amongst other things, at his restaurant in The Berkeley, Knightsbridge. According to the master chef, the only way to achieve a custard tart with the quality that two Michelin stars demand is to bake it in a Rational SelfCooking Center.
For information and brochures, or to arrange to come to a free SelfCooking Center® 'TeamCooking Live' seminar, contact your dealer, freephone Rational UK on 0800 389 2944 or call +44 800 389 2944. For product information and contact details see http://www.rational-UK.com. For information about Club Rational, including recipes and combi cooking tips, visit http://www.club-rational.com/gb. Follow Rational UK on Twitter and Facebook.
Copy ends
Audi Polo Challenge 2010 – Jul-10
Press Enquiries:
Toni Turner or Alison Haynes at The Publicity Works: 01263 761000; Email: rational(at)publicityworks(dot)biz
Vic Brown at Rational UK: 01582 480388
More information on Rational UK from http://www.rational-UK.com and Club Rational
Follow Rational on Facebook and Twitter
'SelfCooking Center' and 'TeamCooking Live' are registered trademarks of Rational.
Separations charge enquiries: offers can only be accepted by fax on 01263 761009 or by email to seps(at)publicityworks(dot)biz.
All offers are considered. We will call you if the answer is 'yes'. Otherwise the answer is, regrettably, 'No'.
###