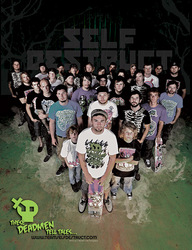 Count yourselves dead to sin but alive to God in Christ Jesus
Bentonville, AR (PRWEB) September 25, 2009
After launching in June, 2009, Self Destruct has successfully found their niche in a saturated clothing and action sports market. With new brands emerging everywhere, finding an identity and connection with consumers has never been more difficult for a skate brand. The key to their success has come through self-funded humanitarian and evangelistic skate tours and outreach events. Where most companies invest in their brand through sponsored team riders and demos, Self Destruct has chosen to meet kids where they are in the skate parks or on the streets.
Bill and Tina Beyer, founders of Self Destruct, had been doing similar events in their local community through Skia, their Christian store in Bentonville, AR. Two years prior to the brand launch, the Beyer's began hosting local skate events and outreaches. In the summer of 2008 they decided to take their local skate/BMX team on a 10-day tour where they visited over 20 random skate parks from Arkansas to Southern California. They called it the Self Destruct Tour based on Romans 6:11 in the Bible. It reads, "Count yourselves dead to sin but alive to God in Christ Jesus" (NIV). "Self Destruct means 'Die to Self and Live for Christ'. It's a hardcore message that goes against the norm of our society which advocates self indulgence. As Christians we believe that to truly live means to put away fleshly desires so we can focus on Jesus Christ," says Mr. Beyer.
After the success of the first skate tour, the need for a supporting brand was apparent. The Beyer's teamed up with Joe Sapko, Director, in January, 2009. After formulating the concept and core philosophies of the new brand, the trio hired freelance artist Maren Kelly as their art director. Kelly is a leading designer in the action sports industry having worked for brands like Draven and NOTW and frequently designing apparel for Factor 54, Aqua XI, Maui and Sons, among others. "I worked with Maren at a previous job and always knew she would be a great resource. Helping start a brand had never been an ambition of mine, but when things started to come together with Bill, I knew we had to get Maren on board," said Sapko.
Along with the Beyer's experience at Skia and their free annual summer concert, Skiafest, brought connections within the music industry. Even before the launch, Self Destruct had a line up of bands looking for sponsorship. "We have focused on working with up-and-coming skaters and bands; we're not trying to pursue the biggest names out there", says Mr. Beyer. So far the company is sponsoring national bands like The Wedding and War of Ages as well as up-and-coming hardcore and punk bands like Take It Back, Close Your Eyes, and The Overseer.
Over the summer, the company attended a handful of large music festivals in addition to putting on their annual Self Destruct Tour in late July. The company is actively pursuing the wholesale market and is currently talking with national retailers, building a skate team in Southern California and is hosting a large three-day festival in Southern Missouri from October 23rd - 25th, 2009 called Self Destruct in the Ozarks. They will begin the trade show circuit in Spring 2010.
For additional information that is the subject of this release or for samples, contact Joe Sapko or visit TeamSelfDestruct.com.
About Self Destruct:
Self Destruct is a Christian-based Skate and lifestyle company located at 1400 SW Susana Street, Suite 20, Bentonville, AR 72712.
Contact:
Joe Sapko
Director, Self Destruct
(951) 941-2381
###