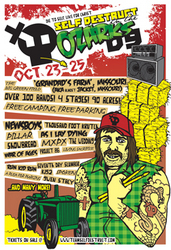 We made a lot of friendships with bands and artists through Skia over the last few years, and these relationships became natural partnerships for Self Destruct after the launch
Bentonville, AR (PRWEB) October 6, 2009
Self Destruct, a new Christian skate and apparel company, will be hosting their first-annual Christian Rock and Music festival called Self Destruct in the Ozarks on October 23rd - 25th, 2009. The first-year festival is just one of many projects for the young brand since their launch in June.
Though Self Destruct is primarily focused on the skate and action sports industry, they also have deep roots in the music industry through their store, Skia, in Bentonville, AR. "We made a lot of friendships with bands and artists through Skia over the last few years, and these relationships became natural partnerships for Self Destruct after the launch", says Bill Beyer, founder of Self Destruct. The brand currently sponsors national bands like War of Ages and The Wedding as well as up-and-coming hardcore/punk/rock bands like Take It Back!, The Overseer, and Close Your Eyes.
Self Destruct in the Ozarks is staged to be an action-packed weekend with over 100 bands and an all-star artist line up featuring Newsboys, As I Lay Dying, Thousand Foot Krutch, MxPx, KJ52, Pillar, Seventh Day Slumber, Living Sacrifice, War of Ages, Run Kid Run, Gwen Stacy, and The Wedding. There will be four stages including one stage dedicated to local and regional artists called "The Spot". "Our vision from the start has been to put a large focus on the up-and-comers whether its through our skate team or through the bands we sponsor", says Beyer.
The first-year event will include 4 stages, 24hr bonfire, vendor/artist tents, and guest speakers in addition to their incredible artist line. Self Destruct is also offering free camping and free parking on their pristine 90 acre location in rural Jacket, MO located approximately 20 miles north of Bentonville/Rogers, AR. Pre-sale tickets are competitively priced at $50 for the full event and will be $55 at the gate. For group discounts, day passes and further details visit their pricing information page.
For additional information that is the subject of this release, contact Joe Sapko or visit http://www.teamselfdestruct.com.
About Self Destruct:
Self Destruct is a Christian-based Skate and apparel company located at 1400 SW Susana Street, Suite 20, Bentonville, AR 72712.
Contact:
Joe Sapko, Director
Self Destruct
(951) 941-2381
###