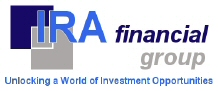 " the self-directed IRA offers retirement investors with greater control over his or her retirement investments" stated Adam Bergman
Miami, FL (PRWEB) October 12, 2011
With the recent slide of the stock market, more and more people are starting to turn to a Self Directed IRA as a means of diversifying their retirement portfolio. Ever since the financial crisis of 2008, many Americans came to understand the advantage of diversifying ones retirement funds through real estate, precious metals and other non-traditional investment options. A growing number of Americans have lost faith in Wall Street and have recognized the value of diversifying their retirement portfolio with real estate and other investment options. "In the past ninety days, we have seen a large increase in the number of clients seeking to use self directed IRA to make real estate and other investments as a source of protection against a falling stock market," stated Jaclyn Baily, IRA Processing Director at the IRA Financial Group. With a growing number of financial experts expecting higher interest rates and lower stock market returns over the next several years, no longer is allocating all ones retirement assets to Wall Street investments believed to be a sound financial decision," stated Adam Bergman, Esq., tax attorney at the IRA Financial Group.
With a self directed IRA with checkbook control, an investor would be able to use retirement funds to make domestic or foreign real estate, precious metals, tax liens, foreign currency, and many other investments tax-free and without custodian consent. With a self-directed IRA, IRA or 401(k) assets are transferred or rolled over tax-free to a IRA custodian who permits these types of investments. A special purpose limited liability is formed, which will be owned by the IRA (care of the custodian) and managed by the IRA holder (you). The investor, as manage of the IRA LLC, then has the ability to make the real estate or other investment tax-free and without custodian consent. Using a self directed IRA LLC, the IRA holder would be able to re-allocate his or her retirement portfolio into different asset classes, such as real estate or foreign currency, which may prove more resilient against a United States financial or debt crisis. "In a time where the financial and economic stability of the United States is at question, the self-directed IRA offers retirement investors with a level of asset diversification and far greater control of his or her retirement investments," stated Adam Bergman.
The IRA Financial Group was founded by a group of top law firm tax and ERISA lawyers who have worked at some of the largest law firms in the United States, such as White & Case LLP and Dewey & LeBoeuf LLP.
IRA Financial Group is the market's leading "Checkbook Control" Self Directed IRA and Solo 401k Plan Facilitator. We have helped thousands of clients take back control over their retirement funds while gaining the ability to invest in almost any type of investment.
To learn more about the IRA Financial Group please visit our website at http://www.irafinancialgroup.com
###