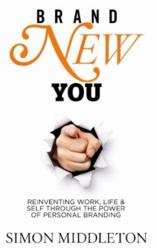 Brand New You offers a way of thinking about taking control of your life in a really worrying and disempowering economic environment.
(PRWEB UK) 10 May 2012
Brand New You, the new self-help guide to personal branding and personal reinvention has been named Book Of The Week by the Mail On Sunday's YOU magazine.
Written by Simon Middleton a former ad agency creative director and corporate brand consultant who reinvented his life completely to become a banjo retailer and manufacturer, Brand New You explains how individuals can take control of their lives by applying brand strategy to themselves.
Sarah Stacey, writing in the Mail On Sunday YOU magazine of May 5th 2012 said: "with the world of work in turmoil, stress levels are at an unparalleled high. Thinking of yourself as Me Inc can be a useful approach when things are shaky."
The review also said of Brand New You: "It's simple to follow but gives thorough explanations and details, with exercises in each chapter and real-life stories."
Simon Middleton's book, his third, was published by Hay House on May 6th. Whereas his previous books have been aimed at entrepreneurs and business leaders, the new book is designed to work for any individual who wants to change their work or any other aspect of their lives.
Middleton commented: "Brand New You has started to attract a substantial readership straightaway. It went into Amazon's top 40 self-help bestseller list right off the bat and I think that's because it offers a way of thinking about taking control of your life in a really worrying and disempowering economic environment."
"People are worried about their jobs and their livelihoods, whilst the desire for personal fulfillment and a sense of purposefulness has never been greater. My book gives practical advice and guidance, which is down to earth and rooted in reality," Middleton added.
COMPANY INFORMATION
Simon Middleton is an entrepreneur, author, musician, and personal and corporate brand adviser.
Banjos Direct is the UK's fastest-growing specialist banjo retailer and manufacturer, leading the renaissance of interest in the banjo amongst players of every age and background. The Norwich-based company has recently become the only banjo company that is manufacturing in Britain, with the launch of the all-British made Islander OB-01.
Founder and CEO of Banjos Direct, Simon Middleton, is also frontman of English-Americana band The Proposition, whose debut album King Snake, Devil Shake was released in March this year. Middleton is the author of two other popular books on branding and marketing, including 'Build A Brand In 30 Days' and 'What You Need To Know About Marketing.'
Find Banjos Direct at http://www.banjosdirect.co.uk.
Email: info(at)banjosdirect(dot)co(dot)uk
Phone: +44 (0) 1603 305800