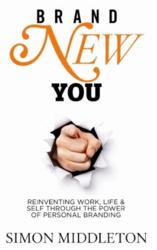 Brand New You shows readers how to make substantial positive changes in all aspects of their lives,. The author's intensive one-to-one sessions will help speed up that process.
(PRWEB UK) 18 July 2012
Branding consultant and entrepreneur turned self-help book author Simon Middleton is offering affordable 'intensive advice' personal branding and life coaching sessions to entrepreneurs and other individuals wanting to transform their careers, businesses and lives, based on his new book Brand New You.
Middleton commented: "We can all transform our lives for the better by stepping outside ourselves and taking a more objective view and thus 'treating ourselves like businesses treat their brands'.
His new book Brand New You (published by Hay House in May) shows readers how to make substantial positive changes in all aspects of their lives. The author's intensive one-to-one sessions will help speed up that process.
Middleton, who was a high profile corporate branding consultant and business author before writing Brand New You, added: "In an increasingly tough jobs market and an ever more competitive world in general, it is more vital than ever to stand out from the crowd to get the most from the opportunities given to us, and at the same time to find a path which is really in tune with our personality and our aptitudes."
Middleton's answer to that challenge of standing out is to create "a killer personal brand".
The author says that his one-to-one consultancy sessions will help participants to examine their life narrative and to develop a new 'personal brand' strategy, based on their ambitions and talents, whilst also paying heed to their audiences and establishing what makes them different as individuals.
Middleton, whose most recent brand venture is the creation of the UK's leading specialist banjo retailer Banjos Direct, promises that by creating a strong personal brand you will improve your prospects at work, stand out dramatically from the crowd and secure the job you really want, develop and grow a small business, and even improve your relationship prospects.
Offering a fascinating glimpse into the art of successful company branding and marketing strategy, and then applying it to the individual reader, Middleton shares his expertise so that by the end of this book or a one-to-one session readers and participants be thinking about themselves like the CEO of a company thinks about their business.
In the process individuals will be on their way to developing a powerful personal brand and achieving ambitions which previously seemed out of reach.
This book and training sessions show how to build a personal brand by explaining:

How to turn ambition and dreams into a personal brand strategy
How to identify the competitors to the individual's personal brand allowing them to create their own 'edge'
Strategies for 'positioning' a personal brand
How to craft a personal brand story and ultimately 'sell' the story to others
How to bring the personal brand to life, to build an authentic, distinctive and compelling brand 'identity'.
One-to-one personal branding sessions with the author take place in Norwich or in London (other locations by arrangement) and last three hours. Fee levels are available on request by emailing simon(at)simonmiddleton(dot)com.
Further Information:
Simon Middleton is one of the UK's leading experts on brands and branding and a highly-experienced personal reinventor. His consultancy firm has advised organisations and individuals all over the world and Simon has appeared on BBC Newsnight, BBC Breakfast, Bloomberg TV, Sky and CNN to discuss brand stories.
He is also the author of popular business books 'Build a Brand in 30 Days' and 'What You Need to Know About Marketing', and he is a retail entrepreneur and founder of market leading folk instrument retailer Banjos Direct.
Note to editors: Simon is available for interview and expert comment and Brand New You is available for extract.
For further information please contact Simon Middleton on 01603 305800 or email simon(at)simonmiddleton(dot)com
Website: http://www.simonmiddleton.com