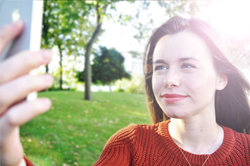 Birmingham, UK (PRWEB UK) 10 October 2016
The FlashAcademy app has captured thousands of short selfie video clips created by different native language speakers, sequenced together in a way to help acquire new words and fluency in a foreign language.
The selfie videos form part of short 5 minute language lessons, encouraging learners to pick-up new words from native speakers on your phone. Once you've started to pick-up your new words, the lessons also test your recall and spelling, whilst also helping you to start to get to grips with some grammar rules and cultural insights.
"We added the native speaker selfie videos after discovering how personal and effective they were in testing. Learners seemed to find them more engaging and meaningful than the typical stock photograph or word-only based learning techniques. As humans, we're naturally drawn to other humans, which is part of what makes this such a powerful learning experience." says Lauren Littlewood, Content Manager at FlashAcademy.
The FlashAcademy app has been developed by UK EdTech start-up, Learning Labs. The same company was behind the launch of FlashSticks, language Post-it Notes developed in conjunction with multinational, 3M.
"The FlashAcademy app is simple to use and enhances the user experience. My viewers and I love it!" said Tom Txxytu, an Italian speaking YouTuber with over fifty thousands subscribers, who places FlashAcademy above market leader Duolingo, in terms of an all-in-one language learning app.
In addition to selfie videos and lessons, the FlashAcademy app also includes a range of interactive games to help add a fun way for learners to cement the new language skills they've developed. There's also a very innovative object translator, similar to Google Translate's text converter, except that this one works on everyday objects. Simply take a snap of any object around you and the app not only recognises what it's looking at, but also translates it for you in a surprising amount of detail.
Free to download, the app is available on iOS and Android for over 40 different languages, with full courses available for French, Spanish, Italian and German. Full access to all app content is via subscriptions, starting from £3 per month.
Download for free from the App Store or Google Play store. For more information, visit: flashacademy.com.
Ends.
For more information and high resolution images please contact:
Isobel Owen, Marketing Manager, FlashAcademy
+44 (0) 843 289 7447 | isobel(at)flashsticks(dot)com
Francesco D'Alessio, Marketing Manager, FlashAcademy
+44 (0) 7786085885 | francesco(at)flashsticks(dot)com
---
Notes to editors
FlashAcademy™ is a new iOS and Android app developed by Learning Labs, a venture-backed start-up based at the Innovation Birmingham Campus. The app combines a host of features including the world's first object translator in 40 languages, native speaker tutor videos, interactive language lessons, engaging word games, flashcards, grammar and culture tips,and the The app is free to download on App and Google Play stores, with subscription plans starting at £2.99 per month. FlashAcademy is perfect for all ages and all language proficiencies. For more information, please visit http://www.flashacademy.com.
Learning Labs is also the creator of FlashSticks®, a range of language Post-it Notes, developed in collaboration with multinational, 3M. The printed Post-it Notes, millions of which have now been produced, are designed to support immersive daily learning. FlashSticks are available in French, Spanish, Italian, German, English and BSL and can be purchased on the company's site, Amazon, Waterstones and other outlets. Packs start from £4.99. More at http://www.flashsticks.com.