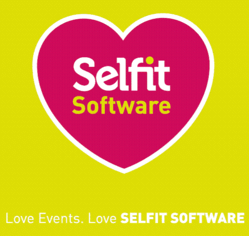 Emily Brouder, BIG Marketing Manager said, "BIG badges are the badges of choice for hospitality, events and conferences. Using our Selfit system and portable printers, event organisers can confidently handle last minute arrivals and unexpected guests.
Hampton Hill, West London, UK. (PRWEB UK) 6 March 2012
BIG, the leading badges and business print specialist for hospitality, events and conferences has launched Selfit Global, its revised total industry solution for high-quality reusable badges and inserts. The system, which is still the only complete solution on the events market, showcases on the BIG stand G612 during Confex International 2012.
Selfit Global is an enhanced version of the highly popular Selfit badging system. As a web-based release, it is global in its structure and in the choices the user will have around the platform. The software has been adapted to match the increased use of mobile technology within the industry and can now be downloaded or accessed online for use in the office or on-site. BIG calls this new version the go-to system for stress-free badging, designed to help event and conference organisers achieve flawless professional and image enhancing name badges, anywhere, anytime.
Selfit Global is the result of ongoing conversations with customers and investment in innovative new technologies over the last year. It is hailed as a future-proofed system, capable of coping with advances in usage and new technologies. The BIG Selfit development team consider this global version to be a fresh approach to badging solutions currently used by event and conference organisers. The software is equipped with advanced design and editing features, improved accessibility and sharing facilities for onsite printing. Its smart applications and features work online, offline and through an iPad® app.
Selfit's enhanced user experience is practical and efficient, providing real flexibility for a more effective and productive badging system. The system continues to revolve around saving time and reducing the hassles typically associated with preparing badges for events. Real-time reporting and printing; generation of 1D and 2D barcodes; easy download and sharing of files in excel and PDF formats are included as standard features while the new upgraded software is designed to be used anywhere, whether in the office, on site or on the move.
As in the current Selfit badging system, Selfit Global comes complete with printers, badges, cards, ribbons, lanyards, fastenings, wallets and software. Name badges and print products are re-usable and eco-friendly and can be adapted to whatever the size and complexity of the event. In all cases, BIG name badges come in a range of sizes to accommodate personalisation and display information. Their long-lasting, scratch-resistant surface keeps badges looking like new, time-after-time, saving money and limiting environmental impact.
Tim Smith, General Manager at BIG commented, "By using new tools from the Brady R&D team, we have produced the finest version of our Selfit software to date. As part of the process, we were able to interview existing customers worldwide to get an understanding of what they need today and what they might need in the future. We incorporated these insights in our design and we now have our first version of the software. Our work with Selfit Global does not stop here. We are already in development with Phases 2 and 3 which include even more new and useful tools and applications for the event professional."
Mark Alderman, BIG's Operations Manager added, "Our customers were constantly engaged in our development. We listened to them and followed their use of new technology. We set out to build an enhanced platform that is robust and flexible enough to handle upgrades and future technological innovation. We believe that Selfit Global has achieved precisely that, and we are confident that our customers will love the ease of use and new way of stress-free badging."
Emily Brouder, BIG Marketing Manager said, "BIG badges are already the badge of choice for hospitality, events and conferences. Used with our portable Selfit Printers, event and conference organisers can confidently handle last minute arrivals and unexpected delegates onsite, producing - in seconds - the same high-quality name badges as the ones prepared earlier in the office."
The BIG investment in innovation and technology is ongoing and the company is constantly upgrading and adding value to their products and services. The BIG product range includes print material such as event and conference material and business cards; smart cards, permanent employee ID name badges for customer facing staff, and professional, re-usable name badges, wallets, lanyards and wrist-bands and accessories for festivals, events, conferences and sport activities.
Notes for Editors:
BIG is part of the Brady Corporation, with operations in 22 countries, and distribution in over 100 others. BIG has worked for thousands of organisations of every size and in every sector. The print and manufacturing operation is located in Ipswich. Spokespeople for comment include Tim Smith, BIG General Manager. Detailed Biog information is available upon request. For a list of services and products, please visit http://www.big.co.uk.
BIG
5 Hampton Hill Business Park
High Street, Hampton Hill
TW12 1NP
F: +44 (0) 208 614 8800
E: marketing(at)big(dot)co(dot)uk
http://www.big.co.uk