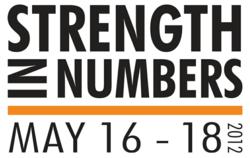 We understand the set backs companies have when faced with long lead times and we are trying our very best to see that customers no longer have to wait an extensive time frame to get their parts
Coopersville, MI (PRWEB) April 27, 2012
SelfLube will be joining members of the American Mold Builders Association (AMBA) at the 2012 National Convention. This year's theme - "Strength in Numbers" seeks to provide a better understanding of the American Mold Industry and its role in providing the quality tooling which is vital for maintaining the competitiveness of America's Manufacturing and amongst mold makers.
SelfLube does not actually build molds. It supplies the vital components that go into the molds. Increasingly, the industry has been moving towards the use of standardized components to reduce cost and shorten lead-time. Mold builders are looking to SelfLube to supply those components. "We understand the set backs companies have when faced with long lead times and we are trying our very best to see that customers no longer have to wait an extensive time frame to get their parts," explains CEO Phil Allor.
For over 14 years it has been a partner with the AMBA supplying components to mold makers throughout the U.S. many of these mold makers are in the West Michigan chapter. SelfLube will be exhibiting at the convention and will have on display its product line, such as bushings, slides, gibs and related items - available with or without self-lubricating graphite.
The AMBA has nearly 300 companies as members that employ over 9,000 individuals. Within these 300 companies are 12 chapters of the AMBA that extends to 31 states throughout the U.S., hence the theme - "Strength in Numbers". Those attending the convention will have the opportunity to hear guest speakers as well as take part in workshops that highlight the operational processes of the mold industry and what mold makers need to look for in the future.
The convention is an opportunity for SelfLube to network with mold builders in the industry and with it being practically in their own back yard - it is a chance for SelfLube to showcase its role in the industry. The convention will be a three-day event, May 16 - 18 and will start off with Scott Paul's presentation, "Made in America, Made For the World." For information on the event go to http://www.amba.org/2012_Annual_Convention.php.
SelfLube is a U.S. based manufacturer of precision mold and die components such as bushings, gibs, wear strips, parting line locks, lifter slides and related items - 8,000 standard part numbers in all, many of which are self-lubricating. The company sells directly to build shops throughout North America and Canada, which results in both better pricing and better customer service. Its record on time delivery is among the best in the industry.