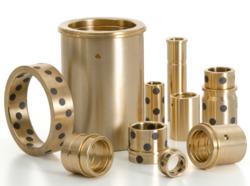 Aluminum bronze bushings used in die sets, metal stamping dies, molds and special machines are a key product for SelfLube.
Coopersville, MI (PRWEB) June 21, 2012
SelfLube, a U.S. manufacturer of mold and die components is a small, but very competent company, that successfully competes with much larger companies in the tool and die industry. SelfLube has been supplying components to companies throughout the United States and Canada for over 20 years, including an extensive list of solid bronze bushings.
SelfLube prefers to use solid aluminum bronze because of its physical characteristics - it is strong and it has "formability". Take a bushing for example, when used in a die or machine, if there is any misalignment a bushing will slightly re-form or re-distribute along the path of the movement. Using solid bronze also reduces the risk of galling, friction and any seizing up of a machine.
When SelfLube first opened its doors in 1990 it was mostly noted for manufacturing wear plates throughout the West Michigan area. Now days, it supplies nearly 8,000 part numbers and with wear plates, another popular one is the solid bronze bushings that ship not only throughout West Michigan, but also throughout the United States, Canada and now parts of South America and Europe.
According to owner Phil Allor, "Aluminum bronze bushings used in die sets, metal stamping dies, molds and special machines are a key product for SelfLube." Its bushing line consists of a variety of standard inch and metric sizes, including NAAMS bushing sizes and are available with or without self-lubricating graphite. These bushings include:

Shoulder bushings
Straight bushings
Guide pin bushings
Demountable guide pin bushings
Laminated style die bushings
Guided ejector bushings
NAAMS pad bushings
SOBF flanged bushings - metric
SPB straight bushings - metric
SPF flanged bushings - metric
LBBM shoulder bushings- metric
SEGB/ SEGBK ejector bushings - metric
Sprue bushings - AB series
Sprue bushings - AE/A series
Sprue bushings - UR/AR series
SelfLube also offers steel bushings and also makes custom bushings. The full bushing line can be seen on the company's website, along with CAD files that can be downloaded. SelfLube offers several different CAD formats that include: ACIS, STEP, Parasolid, IGES.
SelfLube is a US based manufacturer of precision mold and die components such as bushings, gibs, wear strips, parting line locks, lifter slides and related items - about 8,000 standard part numbers in all, many of which are self-lubricating. The company sells directly to build shops throughout North America and Canada, which results in both better pricing and better customer service. Its record for on time delivery is among the best in the industry.