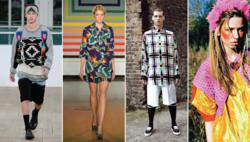 My team and I aim to create dynamic concepts all year round, but working with these young talents is really inspiring. Their vision, and the passion with which they execute their installations, is hugely exciting.
London, England (PRWEB UK) 18 January 2012
Following the success of 2011's 'Bright Young Things', the pioneering project by Selfridges to seek out and champion the most exciting young creators in the UK, January 2012 will see the iconic designer fashion store re-launch the campaign on an even greater scale.
The second Bright Young Things scheme will feature a total of fifteen UK-based emerging talents from the worlds of women's fashion, men's fashion, art and design and food.
From 6 January 2012 until the end of February, the project will see the Oxford Street and Duke Street windows of the store showcase these future stars, as the chosen creators are each given their own window to take over – from conception to realisation; their brief is solely to communicate the essence of their work.
All fifteen designers and artists will sell their products – including women's clothing, men's designer fashion, art and food - from three temporary shops located in the Oxford Street flagship store, as well as online at Selfridges.com, providing major exposition of their work to the public and the opportunity to sell their collections from an international renowned retailer's shop floor.
Recognising the hub of diversity and innovation that is London's creative scene, Selfridges' Buying and Creative teams have selected this year's Bright Young Things for their diversity, breadth and promising talent.
2012's Bright Young Things are:
WOMENSWEAR

SorchaO'Raghallaigh – womenswear designer and illustrator
Adam Andrascik – womenswear designer
Maarten van Horst – womenswear designer
Alice Lee – womenswear designer
MENSWEAR

Shaun Samson – menswear designer
Astrid Anderson – menswear designer
William Richard Green – menswear designer
Alex Mattson – menswear designer
ACCESSORIES

Oliver Ruuger – accessories designer
T.lipop – menswear and accessories designer
ART & DESIGN

Becky Sloan – artist and propmaker
Tinker & Tailor – artists and interior designers
Archie McLeish – graphic illustrator and product designer
NuhaRazik – photographer
FOOD

Jack Coleman – coffee roaster
With the support of Selfridges' expert team of window stylists, the Bright Young Things will each take over one of the store windows and design and install their display – from start to finish – with the aim of communicating the essence of their brand. With one million people walking past the famous windows every week, the displays provide an incredible launch-pad for these fledgling designers to showcase their creations to the public.
Sarah McCullough, Selfridges' Windows and Concepts Manager, comments: "Last year's Bright Young Things windows scheme was so incredibly vibrant and original – particularly when viewed within the context of a luxury department store – that the decision to launch the project for a second year was an easy one. My team and I aim to create dynamic concepts all year round, but working with these young talents is really inspiring. Their vision, and the passion with which they execute their installations, is hugely exciting. We're proud to be able to provide this platform for UK creativity."
In addition to those designers selected by the Selfridges team, one of the Duke Street store windows will showcase the work of seven designers from the University of the Arts London's prestigious Future Map programme. The Future Map graduates to feature in the window are: Alex Kwan, Chieh Ting Huang, Joanna Mires, JyYeonSuh, Karin Soderquist, Matthew Nicholson and Pip Jolley.
ABOUT THE BRIGHT YOUNG THINGS INITIATIVE
Selfridges' Bright Young Things launched in January 2011, showcasing twenty emerging creativesincluding women's fashion designers Alex Noble, Kirsty Ward and Simone Rocha, and mens fashion designers Martine Rose, New Power Studio and Matthew Miller. Attracting the attention of the international press and providing a powerful platform for all the participating creators, the programme was a resounding success – with all designers going on to continue the growth of their brands in 2011.
London Evening Standard: "One million shoppers walk past Selfridges' windows every week. It is the kind of exposure that a fledgling designer can usually only dream about."
About Selfridges
Voted "Best Department Store in the World" at the Global Department Store Summit in New York, Selfridges London is a national institution with the most famous shop windows in the world. The Manchester and Birmingham stores bring the same creative customer experience and now Selfridges.com is positioned to create some magic online.
Across every single department, from food to designer clothing, home to beauty, Selfridges sets the standard for up-to-the-minute style, lasting quality and exceptional customer service, all with a dose of creativity, wit and flair.
What products can Selfridges offer? There's a unique experience for every customer at Selfridges.com. Whether you're looking for the latest designer fashion, must-have labels, gourmet chocolates, women's designer clothes, luxurious skincare, dresses, or men's designer jeans, Selfridges stocks the most-wanted brands such as Ralph Lauren polo shirts, Paul Smith suits, Vivienne Westwood bags and Alexander McQueen scarves alongside old favourites and world-exclusive products.
###